BURLINGTON, Ky. — It could be considered a David vs. Goliath moment in Northern Kentucky.
In one corner, Boone County Judge/Executive Gary Moore. In the other, one of the largest companies in the world — Amazon.
The issue: transparency.
"If there's nothing to hide, be transparent," Moore added. "Put it out there."
The county's top official began receiving email complaints about damage to home and business owners' properties back in September and October.
"Got a call from a gentleman on Limaburg Road who said they had a major blast on Oct. 4," Moore said, "He wanted to know If I had the reading on what it was. I couldn't find it."
MORE: Businesses and homeowners blame structural damage on Amazon hub construction blasting
Following our initial report in early February about homeowners complaining about nearby blasting, Moore made direct contact with Amazon representatives. He believes that meeting was fruitful in obtaining blasting records from two of the three blasting permit holders on-site.
The third company's seismic data, Trumbull Corporation, wasn't given to the county's judge/executive.
At this time, there's no requirement for a company to hand over blasting logs. They are privately owned by the private blasting company.
Moore tells the WCPO 9 I-Team he knows blasting is far from over at the Amazon air hub site near Cincinnati/Northern Kentucky International Airport.
"This isn't something that happened and is now over. This is a continuing process. They have a whole summer and fall to get through," he said. "We need to step it up. They need to step it up. On being more responsible."
It should be noted all reports obtained through an open records request from the Kentucky Energy and Environment cabinet show no blasts at the Amazon air hub exceeded the state's regulatory limits.
Don Jones, president of A&B Heating and Air Conditioning, says damage is damage. He told the WCPO I-Team an Amazon representative surveyed damage to his property on Commercial Drive in Burlington about three weeks ago.
"They have the responsibility to fix it. I'd think that Amazon would want to be a good neighbor," Jones said.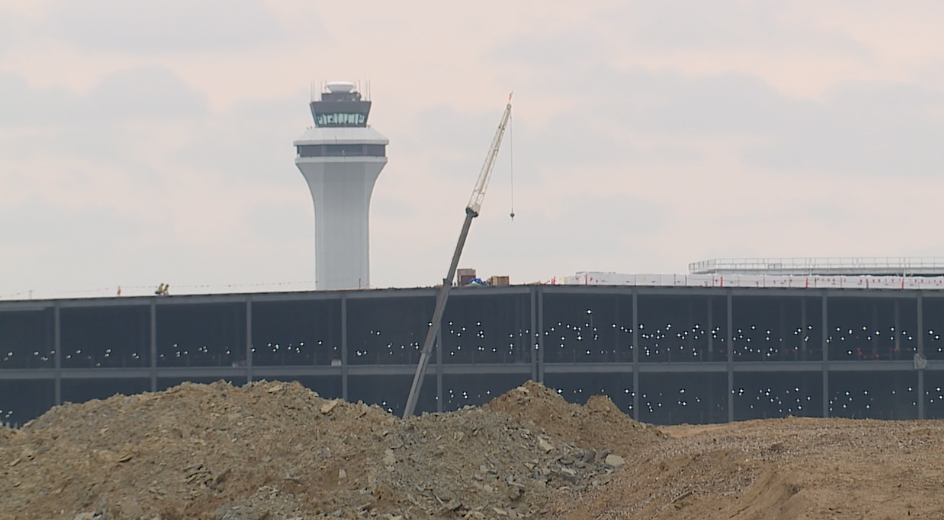 Moore explained how the county has been working hand-in-hand with CVG over the past few decades. He says that partnership has blossomed specifically over the past decade.
He doesn't want a hurdle to ruin the good work he says that has been done.
"We want the contractor, and the company itself, to be more transparent to the community, the county, and to CVG," he said.
On Feb. 25, WCPO 9 reported Moore sent a letter to Amazon officials. The request: stop all blasting at the site.
"Amazon in this case should've directed their subcontractor, and their subcontractor, to be more proactive in the community. I do think that they're engaged now, and they're moving in that direction, but I'd like to see it sooner," Moore believes.
So now the David in this fight is turning to Goliath. Not with a rock, but with a request: create a website.
"Set up a website and put in your data as it happens, and let's create a strong partnership with the community," he added, "Transparency, information and data. Not just about blasting, but road closures and other projects taking place."
Road closures are already taking place on Aero Parkway. Moore says blasting is beginning to move closer to the road.
"The site is several hundred acres. If they're blasting on the west side, that would be of interest on the Limaburg corridor. If they're blasting on the south side, that would be more of an Oak Brook or Greenview community question."
He's hopeful Amazon will step up to the plate before the 11th hour.
"Now that they're aware, things are coming to light, how they'll respond and how they deal with the community will be imperative. I withhold any criticism until we see what the results are. I'm hopeful we'll get it right," Moore says.