DAYTON, OH — When Beavercreek High School alumnus Zack Sliver left the Marines, he knew he wanted to return to Dayton to make a difference in a town down on its luck.
Years of community clean ups and fundraisers for beautification projects and murals prepared him.
But 2019 proved particularly relentless for the southwest Ohio town.
"When the KKK came to town, I protested," Sliver said. "When the tornadoes happened, I was able to put gloves on and clean up. So when this tragedy happened, I didn't know how to help."
Thankfully, the city is historically known for innovation and resilience.
Sliver and an artist friend, Atalie Gagnet, got to work on coming up with an idea – and the money – for a mural. At the same time, artist Tiffany Clark was wrestling with a similar idea.
After nine months, they finished their passion project last week.
"Tiffany and I's thought is that it's a big hug for Dayton and it's what we can do to give back," Gagnet said.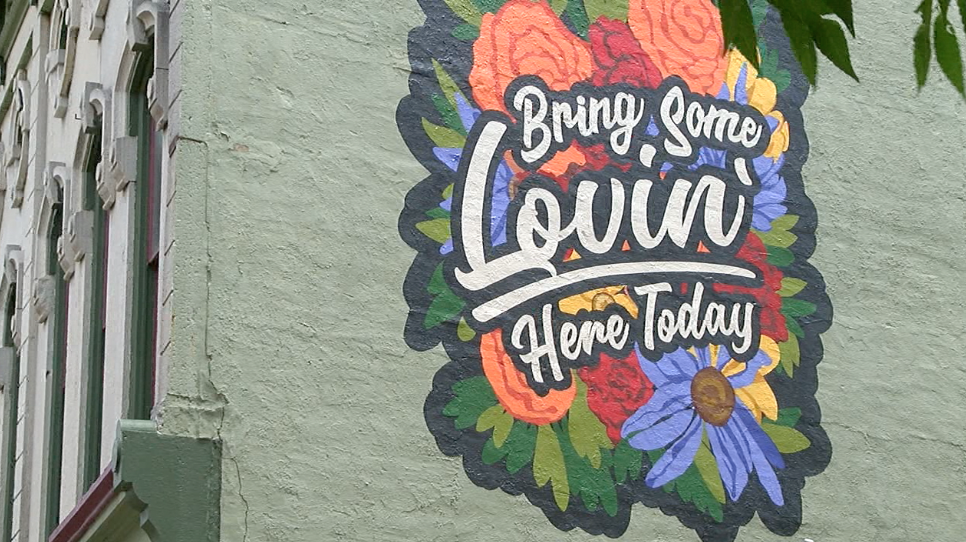 A tragic summer
Hate was coming to Dayton's downtown streets on Saturday, May 25, 2019. Members of an obscure Ku Klux Klan group planned a rally at the courthouse and were met by a counter protest called Dayton United Against Hate.
The city spent an estimated $650,000 on security that day.
In the end, only nine members of the Klan showed up, and could barely be seen through the double chain-link fence and wall of police.
Two nights later, on May 27, 19 confirmed tornadoes swept the region, killing one man in Celina. Damage was reported from Celina to Trotwood to Beavercreek and North Dayton.
As if tragedy was trying to top itself that summer in Dayton, the historic Oregon District became the site of a mass shooting early in the morning of Sunday, August 4. Nine people were dead, and dozens of others had been hurt.
And a community was reeling – shaken, sad, angry.
That week, Clark was working on a mural two blocks away – at the gateway to the Oregon District.
"I didn't come to a lot of the vigils because I was very overwhelmed painting down the street and having people coming up to me and sharing their stories, which is wonderful and part of my job," she said, her voice starting to quiver.
"I feel like I heard all of their stories and took it in as much as possible to be able to make a piece that they asked for. It's been a year and, you can hear in my voice, I'm still feeling stuff."
'We already know we've got to find a way'
In the hours after the shooting, demonstrators shouted down Gov. Mike DeWine, demanding he "do something" about gun violence.
One week later, Springfield-native John Legend joined Mayor Nan Whaley and played a Fifth Street staple, Blind Bob's Bar, to honor victims and first responders. You can watch his performance below, in a Facebook post from the bar.
His cover of Marvin Gaye's 1971 hit "What's Going On?" stuck with Gagnet.
"That's one of my favorite records. It's a protest concept record from beginning to end," she told WCPO. "So [the mural] says, 'Bring some lovin' here today.' It doesn't say 'We've got to find a way ... to bring some lovin' here today,' because we already know."
Sliver's GoFundMe page for a mural to honor the victims and tragedy raised more than $6500.
With money and a concept, the trio got to work sketching the design and finding a location.
'There's no such thing as mistakes, only more paint'
Gagnet grew up painting – and in the Oregon District. Her dad owned property on Fifth Street. She owns her own mural, logo, and signage business and has worked on projects in Cincinnati with ArtWorks.
Clark and her The Mural Machine have painted more than 100 murals around Dayton.
Her designs favor bold colors and flower designs. This one is no exception.
"The orange flowers are specific, the carnations are specific to certain victims and to Ohio," Clark told WCPO. "The same with the daisies and the same with the color purple. Each of them are to identify with someone who lost quite a bit."
And it seems almost predestined that the mural now grows from the side of Blind Bob's Bar, the site of that performance of "What's Going On?"
Working around other projects and uncertain summer weather, the team projected the design onto the wall a couple weekends ago and started painting.
With help from apprentices Leslea Hipp and Cheyanne Lumpkin, the mural was completed within a few, long days.
"This isn't about death, it's about community. It's about love, about what we saw immediately afterward," Gagnet said.
If the mural is a hug for Dayton, squeeze tight.
"There's no such thing as a hero story without tragedy," Clark added. "Dayton is full of hero stories and people coming together in loss."