CINCINNATI – When 13 Below Brewery opened along the Ohio River in September, its owners looked forward to serving boaters, family and friends great craft beer and waterfront views.
"We looked forward to being on the river, not in it," said Ray Busche, a founder and vice president of the Sayler Park micro-brewery.
Busche, along with his wife Monique and their business partners Doug and Anne Menkedick, Dick and Lyn Busche and Bob and Cindy Luebbering, named their brewery 13 Below because it is 13 miles downriver from downtown Cincinnati.
On the morning of Feb. 24, a rising Ohio River forced the brewery, located at 7391 Forbes Road, to close its doors. With a little help from some friends, the brewery reopened Thursday after more than a week of clean up.
"We were open still for business the Friday (Feb. 23) before the river crested," Busche said. "The river was slowly but surely taking over our parking lot. At that time, the river wasn't supposed to crest until Sunday morning or evening. The police didn't close the street to our place, so we had thought about opening on Saturday morning."
By 7 a.m. Saturday morning though, Cincinnati police closed Forbes Road. Busche said he, a few volunteers and his brother Dick, who is 13 Below's brewmaster, were still able to brew a few beers that day. They also started preparing the brewery as flood waters rose outside.
"We called in a crew of folks for sandbagging and putting stuff on tables," Busche said. "We left a few things not quite finished and thought we'd have time to come back Sunday morning. Low and behold on Saturday night the water came in like gangbusters. We were not able to get back in and secure the rest of those items."
Dick Busche bought a pair of waders and walked through the Ohio River to assess the condition of the brewery on Sunday afternoon. More than a foot of water flooded the brewery.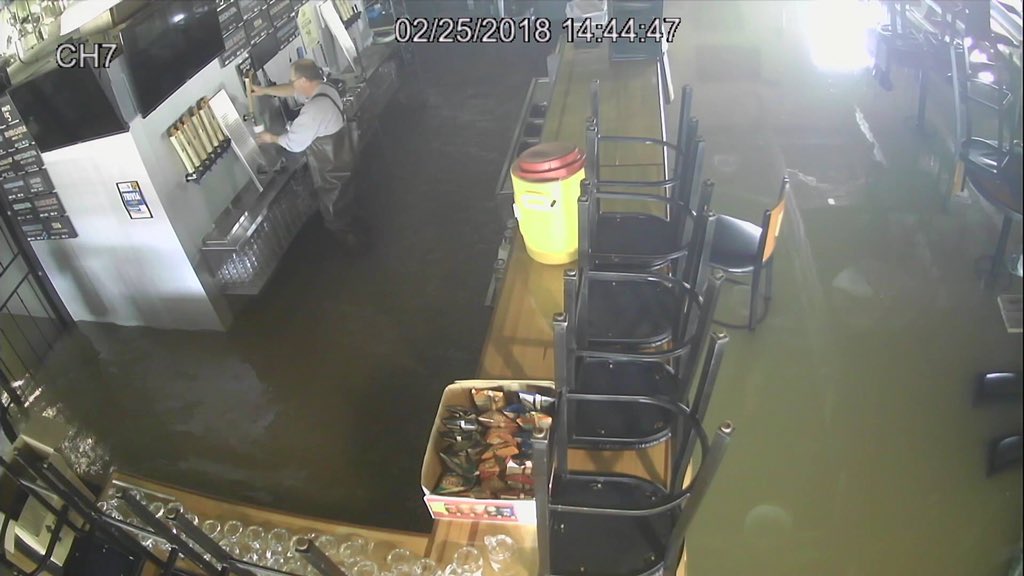 The river finally crested at 60.5 feet Sunday evening, according to the National Weather Service. That is the highest the river has been since March 5, 1997.
After the flood waters receded, family, friends and a contingent of MadTree Brewing Co. employees helped the brewery owners clean up the muck and standing water the river left behind. Before opening, 13 Below had to replace a destroyed water heater and pass health department inspections. The City of Cincinnati waived its permit and inspection fees, Busche said.
"We're still sorting through the overall damage with our adjuster," he said.
The brewery also proceeded to serve its newly brewed bock beer March 1-3 at Bockfest in Over-the-Rhine and collaborated on another beer with MadTree. Busche said the community support has been amazing.
"There is sort of a fraternity among the brewers in town," he said. "I think we'll have a pretty good crowd all weekend."