Severe weather has been on repeat for nearly two weeks across the Great Plains, Midwest and portions of the Ohio Valley.
But why is this happening and when will it end?
Let's start with the severe setup. We've basically been stuck between a ridge of high pressure to the southeast and an area of low pressure to the west/northwest for nearly two weeks. It has produced record-breaking heat in parts of Florida and Georgia. Some of that heat even got into the Ohio Valley as temperatures soared into the mid 80s for several days last week. But in contrast to that, behind an area of low pressure, cold air has dominated the Rockies and brought unusual weather, including May snowfall in Colorado.
But it's the area between these two air masses that ends up in the "ring of fire." You can see that written on the map below. Simply, it's the area where storms can easily fire up on the edge of the hot airmass. And due to the sharp difference between the hot and cold airmass along with a dynamic jet stream, severe weather has occurred over and over again.

Here's a perfect example of what a "ring of fire" looks like by just plotting the severe weather reports. I have the last 72 hours pictured and that would take us back to Monday night's tornado outbreak in Ohio. As you can see, there is an obvious void where severe weather isn't happening: the southeast. Under a dominant ridge of high pressure, the atmosphere is sinking and it keeps most storms from firing up in the heat. Thus, no severe weather.
But along that edge of the heat, that's where you see the concentration of hail, wind, tornado and flooding icons representing all those severe events. And again, this is just the last 72 hours!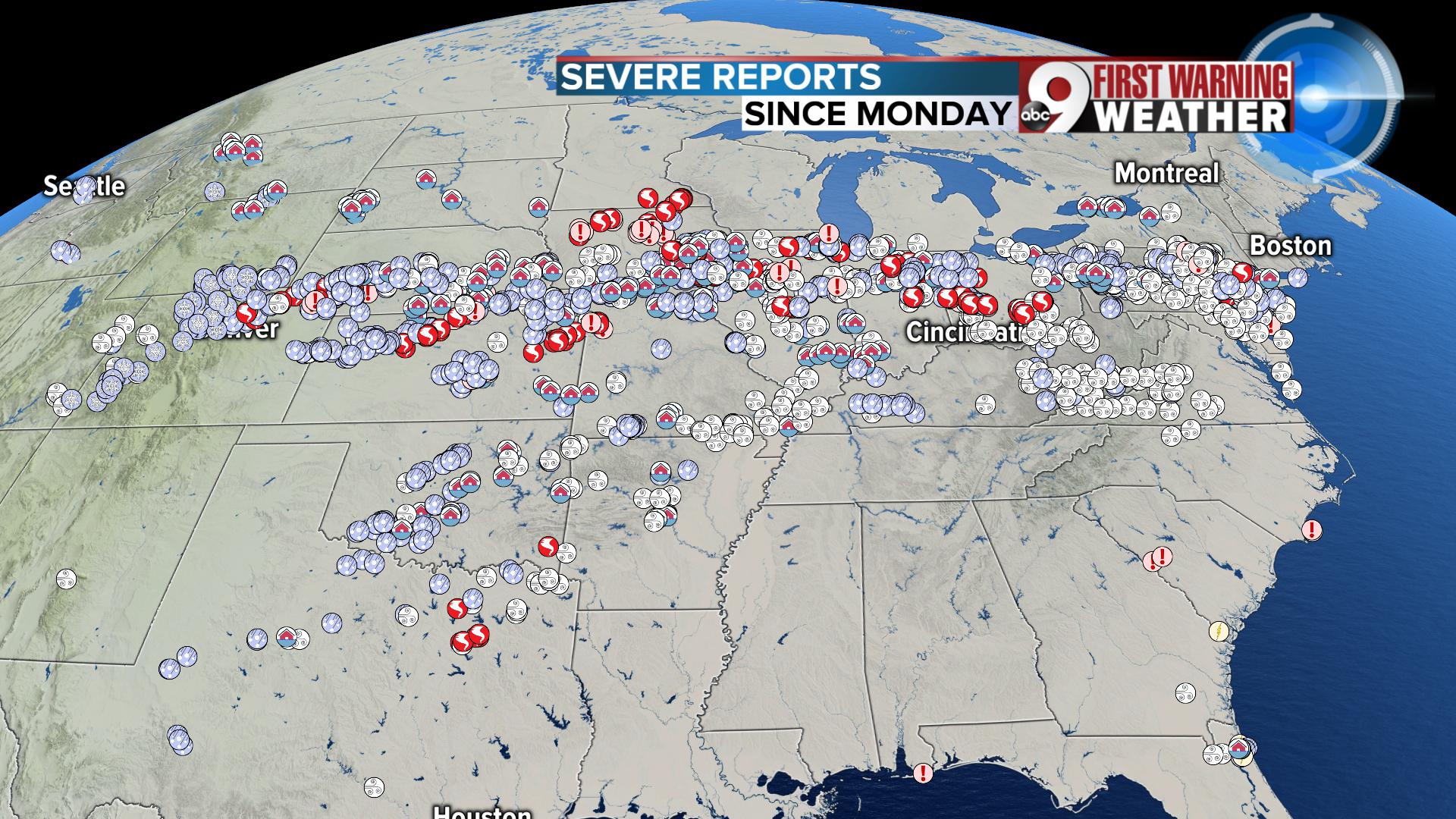 The question that many of you have been asking is, "Is this above average or unusual for May?" And the simple answer is yes. May can be a very active month for tornadoes in general, that fact cannot be denied. The map I have below shows the average number of tornadoes each state sees in May. The hot zones line up with places in tornado alley.
Here are the local averages:
Ohio: 4
Indiana: 6
Kentucky: 5
On Monday, May 27, 2019, we had 17 tornadoes in one event in Ohio. That doesn't even include all the destructive tornadoes in Indiana. Kentucky has not been in the mix with tornado reports.
Now comes the big question for many weather weary souls. Are we done?
We should see a more pleasant and less destructive weather pattern taking over the coming days. High pressure is finally starting to weaken to the southeast and this will allow low pressure and a cold front pass through the Ohio Valley. That's why rain is in today's forecast as this system passes through locally. But as weather system are allowed to start moving from west to east more easily, the severe weather setup will really die down across the Ohio Valley, Midwest and Great Plains. Barely any severe weather is expected across the nation on Friday and Saturday, and that is huge.