CINCINNATI — After more than three years of waiting and 250 hours of pounding nails and painting walls, it took less than 10 minutes for Kimberly "Kimmi" Washburn to become a homeowner.
Washburn sat in a conference room at Prominent Title Agency on East Kemper Road and signed a pile of papers to purchase a renovated Lower Price Hill house from Habitat for Humanity of Greater Cincinnati.
"That was weird," Washburn said afterwards, still a bit stunned at how fast the whole process happened. "Once I unlock that door by myself, I might really cry."
At just 26 years old, Washburn is one of the youngest homebuyers the local Habitat for Humanity has on record. She also is a role model, said Ed Lee, the local Habitat for Humanity president and CEO.
"She's exactly what we're trying to enable in terms of homeownership in Lower Price Hill," Lee said. "The whole focus is to create homeownership opportunities for parents of children who attend Oyler School. And Kimmi is employed at Oyler School. Her daughter attends Oyler School. She will now become a homeowner just a block away from the school, and that's what the whole objective was."
But while she first applied to be a Habitat for Humanity homeowner in October 2016, Washburn's journey started long before that.
She got pregnant with her daughter, Haylee, when Washburn was 16 and gave birth when she was 17. She finished high school as salutatorian of her 2011 Oyler School graduating class. She earned an associates degree at Cincinnati State, graduating with honors in 2013.
All that success hasn't been easy.
WCPO first met Washburn in 2017. She was working full-time at a local childcare center, earning $10 an hour and working as much overtime as she could. No matter how much she worked, her paychecks were barely enough to cover the bills and buy Haylee the occasional bag of chips for a treat.
In the city of Cincinnati, nearly 26,000 children live at or below the federal poverty level, according to the latest estimates from the U.S. Census Bureau. More than 20,000 of those kids live with single moms, and the vast majority of those moms have worked within the past 12 months.
RELATED: Do you see this hard-working mom as poor?
But while Washburn has been living in a subsidized apartment with her daughter since she was 19, she doesn't see herself in those stark Census terms.
'The sky's the limit'
She has been engaged to Haylee's dad, Dallas Thomas Jr., since 2011. They're planning to get married but haven't quite set a date yet.
They have both worked hard to build a better life for their daughter. Washburn has a better job now as a paraprofessional at Oyler, and her fiancé works at a nearby Laundromat.
Owning a home is an important step along their journey, Washburn said, calling the Habitat house a "once in a lifetime opportunity."
Once the family moves in later this month, Washburn will live in a place with more than one bathroom for the first time in her life. And her daughter, Haylee, will have her own room.
But the house is no handout, stressed Lee.
"The Habitat model is not a giveaway program," Lee said. "You've got to put in your hours of sweat equity into the build process as well as you're going to end up with a mortgage. So Kimmi has made that investment."
She spent more than 250 hours with Habitat staff and volunteers renovating the home on St. Michael Street that she now owns.
"But honestly she's low income," Lee said. "She would not be able to walk into a typical financial institution and get a loan. And so through this process with Habitat, she can become a homeowner probably in the only way that she can become a homeowner."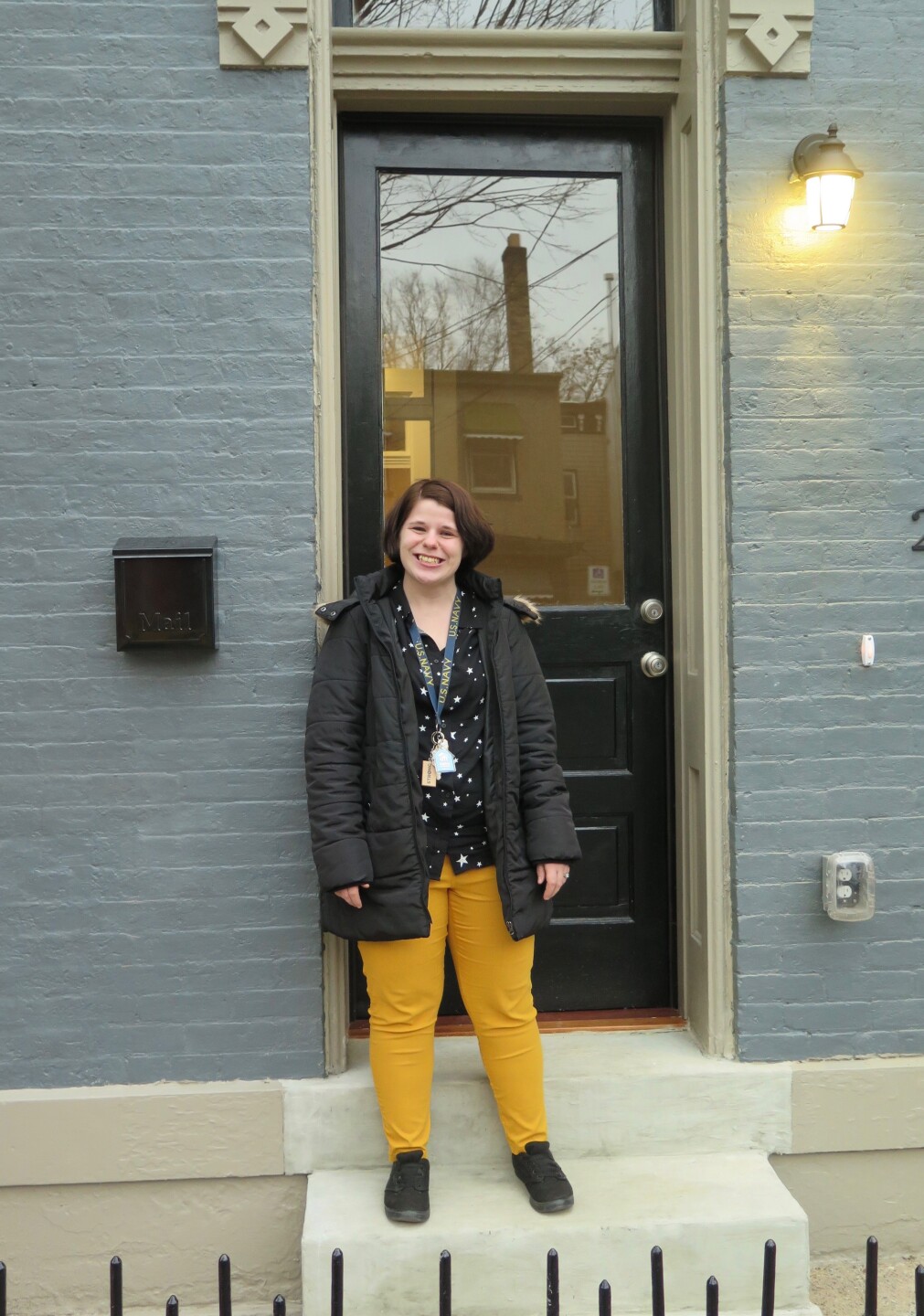 Washburn's monthly mortgage payments will be lower than the subsidized rent she has been paying. And even though she will have to pay a water bill for the first time, her house payment won't increase if her income does the way her subsidized rent has over the years.
That opens up the opportunity to get a second job, Washburn told WCPO in May, or maybe even go back to college.
"The sky's the limit for us," she said then.
Her friend Mary Delaney agrees.
Delaney, the executive director of the nonprofit organization Community Matters, first met Washburn a decade ago.
She tutored Washburn in high school and encouraged her to go to college right after graduation.
They have become dear friends, and Washburn credits Delaney for being one of the people who pushed her to apply for the Habitat for Humanity house.
'You can make big dreams happen'
The day of Washburn's closing, Delaney took her out to lunch beforehand where they had margaritas to celebrate. She and Community Matters staffer Jenna Hippensteel surprised Washburn at her house with a bottle of bubbly to toast the milestone.
"She's an incredible person, and she represents the beauty of investing in the strengths of people," Delaney said of Washburn. "I supported her whenever she needed a tap on the shoulder, and she does the same for me. So I think her journey represents something that's really beautiful about our community in Lower Price Hill."
It's a neighborhood steeped in tradition and bedeviled with poverty, a place that Delaney wishes more people would see for its strengths rather than what it doesn't have.
Community Matters, Habitat for Humanity and other organizations based in the neighborhood are working to build on those strengths by revitalizing the homes there.
If everything goes as planned, Lee said, nearly every home in Lower Price Hill will be refreshed within the next three to five years.
"But it will still be for residents of Lower Price Hill," he said. "It won't be gentrified."
Washburn and her family will be there, helping to anchor the community they have always called home and continuing the journey the best way she knows how.
"Find a good circle," she said. "Learn about your nonprofits, and give back as much as you can."
Delaney said she couldn't have said it any better.
"If you have a good circle, you get good people around you, and you invest in each other, you can make big dreams happen," Delaney said. "It's not out of reach to own a home or to have a business or whatever it is that you're looking for. She proves it's possible."
After everything Washburn has accomplished over the past 10 years, Delaney said, it's tough to say what the next decade could bring.
"She's probably going to be running the neighborhood," Delaney said of her friend. "She's amazing."
More information about Habitat for Community of Greater Cincinnati and Community Matters is available online.
Lucy May writes about the people, places and issues that define our region – to celebrate what makes the Tri-State great and shine a spotlight on issues we need to address. Poverty is an important focus for her and for WCPO. To reach Lucy, email lucy.may@wcpo.com. Follow her on Twitter @LucyMayCincy.