A tall boy in a black tracksuit walks into a library meeting room ready to rhyme.
He stands before a wall-sized whiteboard covered with columns of words, freestyle rapping as he works his way across.
Members of the band Triiibe encourage the boy. Finally Pxvce, Triiibe's medical musician, says: "I am not understanding why we are not trying to write all the greatness we are speaking right now. You don't want to capture this?"
The boy grabs a sheet of paper and pencil and sits down at a table to write.
"Alright," he says, smiling. "Alright."
Welcome to Raising the Barz.
The twice-monthly program aims to teach young people how to express themselves through song and poetry. It's the latest example of the community activism that sets Triiibe apart from other musical groups.
Triiibe's three co-founders, in fact, consider themselves "artivists," equal parts artists and activists. They're not only about making music; they're about making a difference.
Their name stands for True Representation of Intellectual Individuals Invoking Black Excellence, and they describe themselves as "a creative collective of artists seeking to promote positive urban culture and spawn a new Renaissance."
Pxvce, Aziza Love and Siri Imani met through activism. When they continued to run into each other at the same events, they decided to try to create art together, too.
"It seemed like by day, there was this community activism. And by night, there was this poetry expression, music expression," said Love, the group's song seamstress. "The community activism we do is so linked to, I think, all things, everything. To quote Nina Simone, 'How can you be an artists and not reflect the times?'"
"The centerpiece of Triiibe is philanthropy, and the music kind of explains the work," said Imani, Triiibe's poet, lyricist and speaker. "All of the neighborhoods we grew up in, there just weren't a lot of resources available. Financial literacy, self-sustainability, expression. Those are the things that we attacked – things that we lacked first-hand."
Hip hop 101
The three learned urban gardening so they could teach people how to grow their own food, especially in neighborhoods without nearby grocery stores.
They've done "street sweeps" to help clean up neighborhoods that had started looking a bit dirty.
They also have a regular Potluck for the People in Piatt Park Downtown to provide food, clothing, toiletries and fellowship for people experiencing homelessness. People have adopted the idea and have taken it to other neighborhoods, too, which Pxvce said is "completely the mission and the goal of what we want."
As Triiibe's philanthropy has thrived, the group's musical career has, too. PromoWest Productions announced in January that Triiibe would be part of the 2019 Bunbury Music Festival. The lineup released Wednesday has the group scheduled to perform June 2.
RELATED: Lounge Acts: Triiibe creates own brand of 'artivism' tinged hip hop
The fact that the group is having success with its art and its activism shows how important both elements of the group's identity are, Pxvce said.
"We want to bring it to the point where artists, this is the norm for them," he said. "Why not have artists come and teach, and teach what they know? Not try to be rock stars, but more so teachers. It teaches our peers that, yes, you should give back."
That's what Raising the Barz is all about.
Triiibe started the program about four months ago, Imani said. The group had been spending a lot of time at the Public Library of Cincinnati and Hamilton County's Main Library Downtown, using the free resources available there.
They noticed all the kids and teenagers who weren't doing much to stimulate their minds.
"We started running into kids who were just hungry," Imani said. "They weren't doing anything, getting into trouble. It just became a hip hop and business literacy class and evolved into Hip Hop 101."
'If you cuss, you have to rap battle me'
There are regulars each month, like the boy in the black tracksuit who greeted the members of Triiibe like old friends and a girl with long braids who popped in to sing a song for the group.
Triiibe turned off the beat that had been playing in the background so she could sing a cappella.
She stood in the front of the room, flipped her braids and sang her heart out:
"I would rather be blind boy than see you walk away from me."
The room erupted in applause.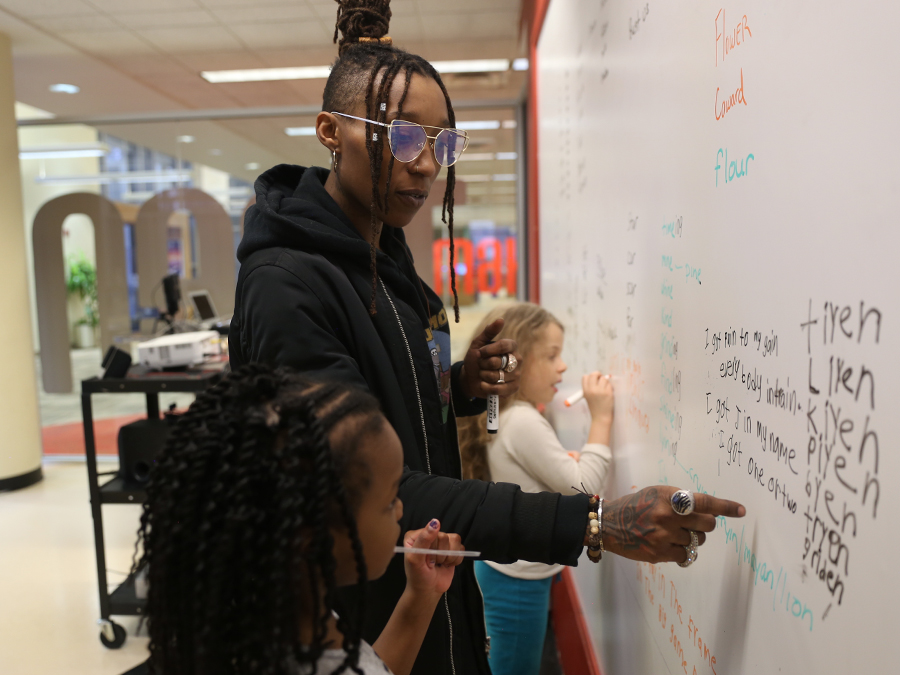 Triiibe doesn't have a lot of rules for Raising the Barz.
There are no age restrictions. The group meets from 4 p.m. to 6 p.m. the first and third Thursdays of the month in the TeenSpot on the second floor of the Main Library Downtown.
Lucius Q often provides barbecue for the program, Pxvce said, which has served as a tasty icebreaker once kids get in the door.
Triiibe does discourage the use of vulgarity, however.
They understand that young people hear lots of curse words in hip hop and rap, but Imani said they stress that it's possible to communicate effectively and powerfully without them.
"If you cuss, you have to rap battle me," she said.
And she always wins.
"Their friends start to glorify me. It shows them they don't have to say this stuff to get the same glorification or wow factor they're looking for," she said.
The goal is to help young people use words and music to work through the trauma they experience in their lives, Pxvce said.
"Get it out in a different form," he said. "Use higher vocabulary words. Say things in a different way, but we're not ignoring the problem."
Addressing community problems, after all, is what brought Triiibe's co-founders together in the first place. They plan to keep doing that, they said, both in their activism and through their music.
"We all have different realities to speak in a way that's rhythmic, that's lyrical," Love said. "I think that is what makes it art. But it's truth in art form, and maybe vice versa? Art in truth form."
More information about Triiibe is available on the group's Facebook page.
Lucy May writes about the people, places and issues that define our region – to celebrate what makes the Tri-State great and shine a spotlight on issues we need to address. To reach Lucy, email lucy.may@wcpo.com. Follow her on Twitter @LucyMayCincy.