AURORA, Ind. — This is a story about how Greater Cincinnati has opened its heart to strangers in need.
Last week WCPO told the region how Steven Davis and Michella Brown sold all their belongings to leave their violent Chicago neighborhood and find a better life for their grandson, Dearius, whom they call Tank.
RELATED: What grandparents' love has taught a boy called Tank
Almost immediately, the community responded in force.
Facebook fans suggested companies that might have job openings for Davis, who is a certified machine operator. A local business owner has offered to help the family find an affordable apartment and said she would even help pay their first few months rent.
But the biggest gift so far came from Kylee Goodpaster and her husband. The young couple from Batesville, Indiana, on Friday gave Tank's grandparents a 2006 Chrysler minivan.
"Growing up, we weren't necessarily the most rich family, and I had my daughter when I was 16," said Goodpaster, who is now 20. "My in-laws and all the grandparents involved, they were just extremely helpful. They helped us in ways I'll never be able to repay them."
That's why the story about Davis and Brown hit so close to home for Goodpaster and her husband, who just turned 22, she said.
"It's just an honor," she said. "It's been a rough year, I think, for everybody, and the chance to help – it's just – it's a good feeling."
Goodpaster and her husband dropped off the minivan on Friday evening at Heart House, the homeless shelter in Aurora, Indiana, where Brown, Davis and Tank are staying.
Davis was working a shift at a nearby fast food restaurant. Brown accepted the gift on the family's behalf.
"It's going to be life-changing because the only thing I want to do more than anything is be able to take my grandson to the doctor," Brown said.
Tank has seizures, she said, and she thinks it could be time to change his medication.
"This is life-saving," she added. "It really is."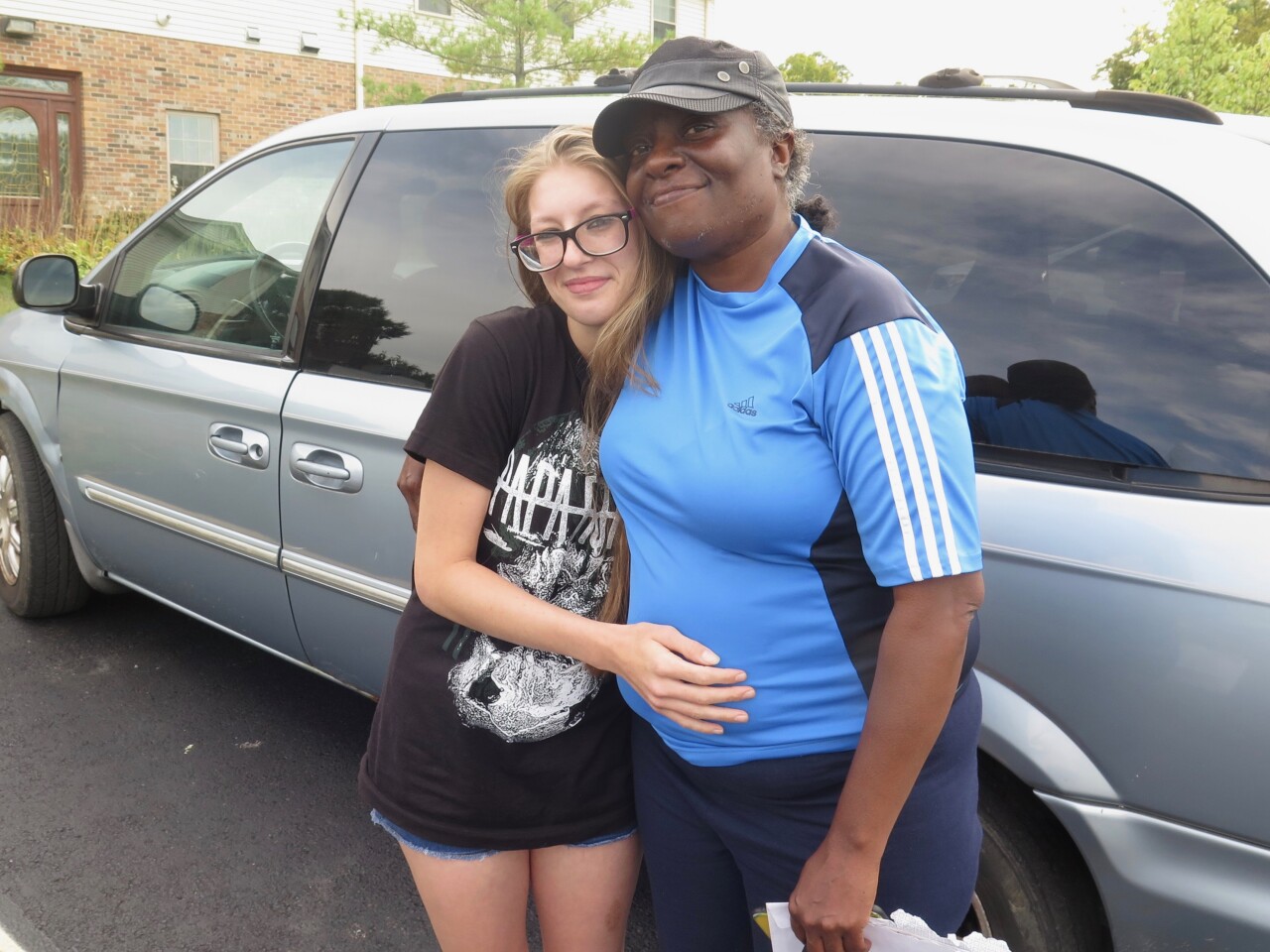 Tank raced out of the shelter to see the van and expressed his approval in classic 9-year-old fashion.
"This is the best car ever," he said, looking straight into a 9 On Your Side news camera. "And if you want this car, give me a thousand dollars!"
The van is worth far more than that to the family.
Not only will it allow Brown to take Tank to the doctor, but it also opens up other job opportunities for Davis because he'll be able to drive himself to better-paying jobs.
"Our struggle is about to be over," Brown said. "I will not be homeless again."
Earlier this summer, Davis and Brown sold everything they owned and left Chicago on a Greyhound bus, determined to find a safer place for Tank.
They ended up in Cincinnati, but life wasn't better right away.
For the first six days, Davis, Brown and Tank were homeless. A relative gave them money for a hotel room for a couple nights, but mostly they slept on park benches outside.
Things began to turn around for the family after they met Samuel Adams Landis, the co-founder and executive director of Maslow's Army.
Landis took the family to Heart House, which had a room for them to stay.
Brown and Davis both found work at an Aurora fast food restaurant within a couple days of being at the shelter. They are eager to move into an apartment of their own, and having a vehicle is an important step in that direction.
Goodpaster and her husband replaced a broken tail light on the van, got the oil changed and gave Davis and Brown most of the money they will need to have the vehicle registered in their names.
"It's overwhelming," Brown said Friday. "I don't want to start crying, but this is amazing. It really is. That there's still people in the world that care about other people and their situation. I don't know what else to say, except for thank you."
The family's story is far from over.
Even with the new van, there are many challenges they must overcome. The couple must get insurance before they can register the van, and that process will be complicated and costly, Landis said.
Based on the response to WCPO's initial report, Landis helped Davis and Brown start a GoFundMe campaign and also an account at U.S. Bank to accept donations for the family.
Landis said all the money donated would help them pay for car insurance, gas for their new van and other essentials to rebuild their lives.
Contributions can be made online to the family's GoFundMe campaign or in person at any local U.S. Bank location by specifying that the money should go to the donation account under the name of Steven Davis or Michella Brown.
Lucy May writes about the people, places and issues that define our region – to celebrate what makes the Tri-State great and shine a spotlight on issues we need to address. Poverty is an important focus for her and for WCPO. To reach Lucy, email lucy.may@wcpo.com. Follow her on Twitter @LucyMayCincy.