CINCINNATI — Prosecutor Joe Deters says Terry Blankenship "deserves to die," calling the March 21 killing of Springdale Police Officer Kaia Grant "an obscenity."
Deters announced a 10-count, death penalty indictment Wednesday against the man accused of deliberately crashing into Grant's cruiser on Interstate 275.
"The murder of a police officer in the line of duty is one of the most despicable crimes anyone could commit," Deters said in a release. "Kaia was attempting to stop an armed, violent criminal who had vowed not to be taken alive ... Under Ohio law, the punishment is appropriate. The resources of my office will do whatever necessary to deliver justice to Kaia's family."
At an afternoon news conference, Deters said Grant's mother "was supportive" when he talked to her about seeking death penalty specifications from the grand jury.
Deters said he just regrets that getting justice could take "decades."
WATCH Deters' news conference here.
"I explained today to members of her family that these cases, depending on the makeup of the courts in Ohio, could take decades for justice to be served," Deters said. "That's because right now we've got, frankly, judges that are taking their time with their cases.
"But the courts are going to change drastically in the next couple of years and, depending on the makeup of the court, it could be a lot quicker than that."
Blankenship, 42, of Blanchester, Ohio, was charged with aggravated murder on April 8. At the time, Deters said he expected a grand jury to add death penalty specifications.
"It's not often we seek charges like this … The fact of the matter is he should never get out of jail. I believe it would be just if they finally executed him for what he did to Officer Kaia Grant."
Blankenship deliberately crashed into two cruisers near State Route 4 as Grant, 33, and Sgt. Andrew Davis were preparing to put down stop sticks, police said. Blankenship was fleeing from Elmwood Place police after he evaded a traffic stop.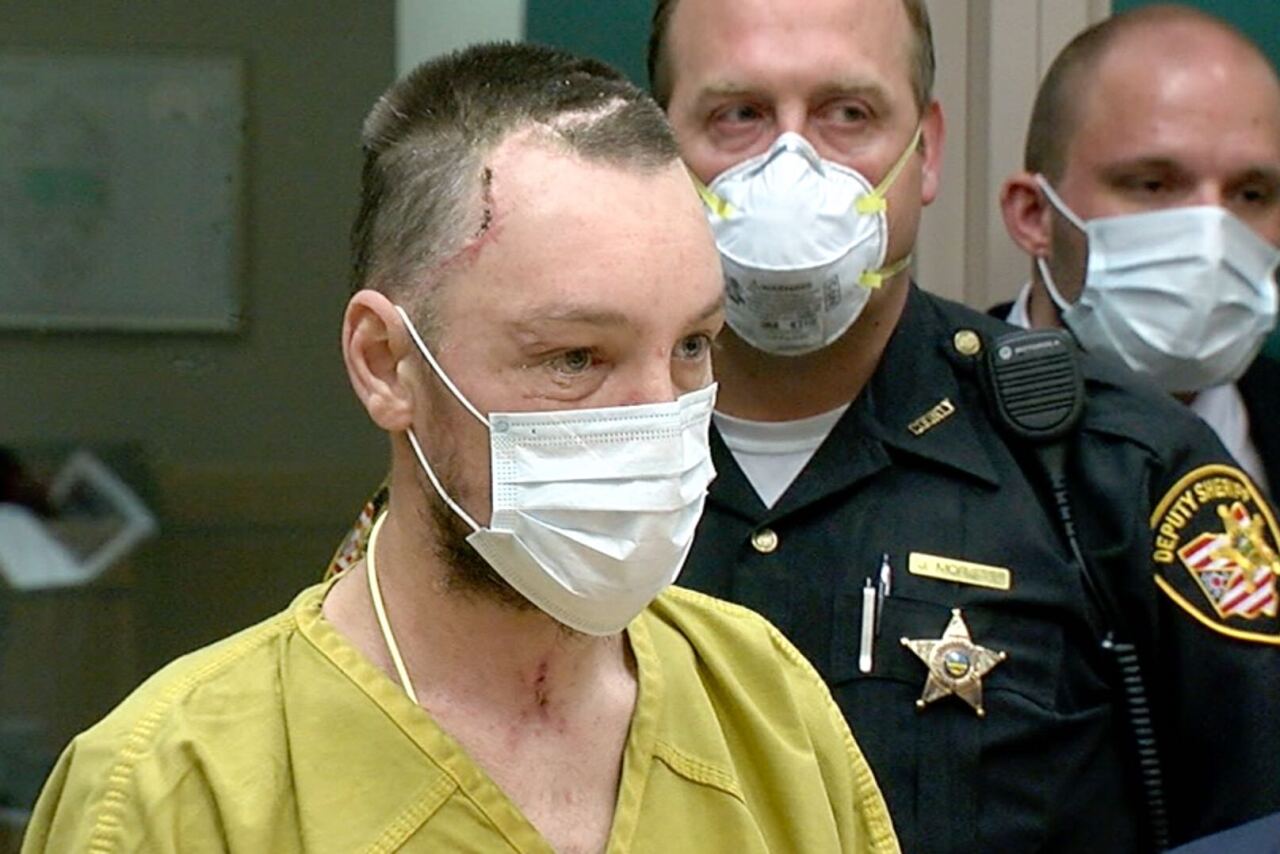 The officers were outside of their cruisers when the crash happened.
After the crash, Blankenship shot himself in the jaw with his own gun while still in his pickup truck, Deters said. He had to be hospitalized pending charges.
At the time of the crash, Blankenship was wanted on a felony warrant in Clinton County. Two nights earlier, Blankenship broke into his ex-wife's home and pistol-whipped her boyfriend, police said.
"Blankenship made a sudden turn toward the officers and drove directly into the police officers and their marked police vehicles," according to a release from Deters' office. "Neither officer was able to deploy their stop sticks. The impact caused Officer Grant's body to go airborne and cross the highway barrier and land on the opposite side of the highway."
The impact of the crash activated Grant's body camera and a single gunshot is heard, according to the release. A loaded .45 caliber semi-automatic was found in Blankenship's truck. No shots were fired by any police officers on the scene, officials said.
The new indictment charges Blankenship with eight counts involving the crash and two counts involving the Clinton County incident.
The primary charge is one count of aggravated murder (special felony) for the purposeful killing of a police officer while on duty (death penalty specification and one-year gun specification).
Blankenship is also charged with murder, two counts of aggravated vehicular homicide with a peace officer specification, two counts of felonious assault and one count each of weapon under disability and failure to comply.
The Clinton County charges are one count of aggravated burglary and one count of felonious assault. Those charges may be prosecuted in Hamilton County as a continuing course of conduct, the release said.
Deters met with Ohio Attorney General Dave Yost about the case last month. Deters and Ohio Bureau of Criminal Investigation were in charge of the investigation, but there was no time limit on when charges had to be filed because the Ohio Supreme Court Justice waived all speedy trial rights at the time due to the coronavirus.
Grant, an eight-year veteran of the Springdale department, was born and raised in Wyoming, Ohio. The 2005 Wyoming High School graduate is the first Springdale officer killed in the line of duty, police said.
Grant was the first female police officer ever killed in the Greater Cincinnati area outside of jail duty, according to the Greater Cincinnati Police Museum, which posts a record of 205 local, state and federal officers who have fallen since 1845 on its website.
It lists two other women – both jail matrons – killed on the job more than 100 years ago, Rosa A. Regan in 1908 and Anna M. Hart in 1916.
Grant was the tenth area officer to die in the line of duty since 2000.
Before becoming a police officer, Grant graduated from the College of William & Mary in Williamsburg, Virginia in 2009, and managed an after-school program for at-risk kids in Cincinnati for three years. She joined Springdale Police in 2012.
Davis, a 30-year Springdale veteran, suffered minor injuries. He was transported to a hospital after the crash and released that night.