CINCINNATI — Fire Station 49 on Prentice Avenue in Madisonville was built in 1910, when firefighters traveled by horse and buggy.
Except for modest updates over the years, such as turning the horse stalls into a kitchen, the building hasn't changed much. It's clean and meets city codes, officials say, but the tiny space isn't comfortable for the firefighters who work 24-hour shifts here.
"They have to get this vehicle in a certain spot because if they don't, they can't get out of the kitchen door … because it's so tight," Cincinnati Fire District Chief Steve Salmons said, pointing to an engine parked inches from the kitchen door.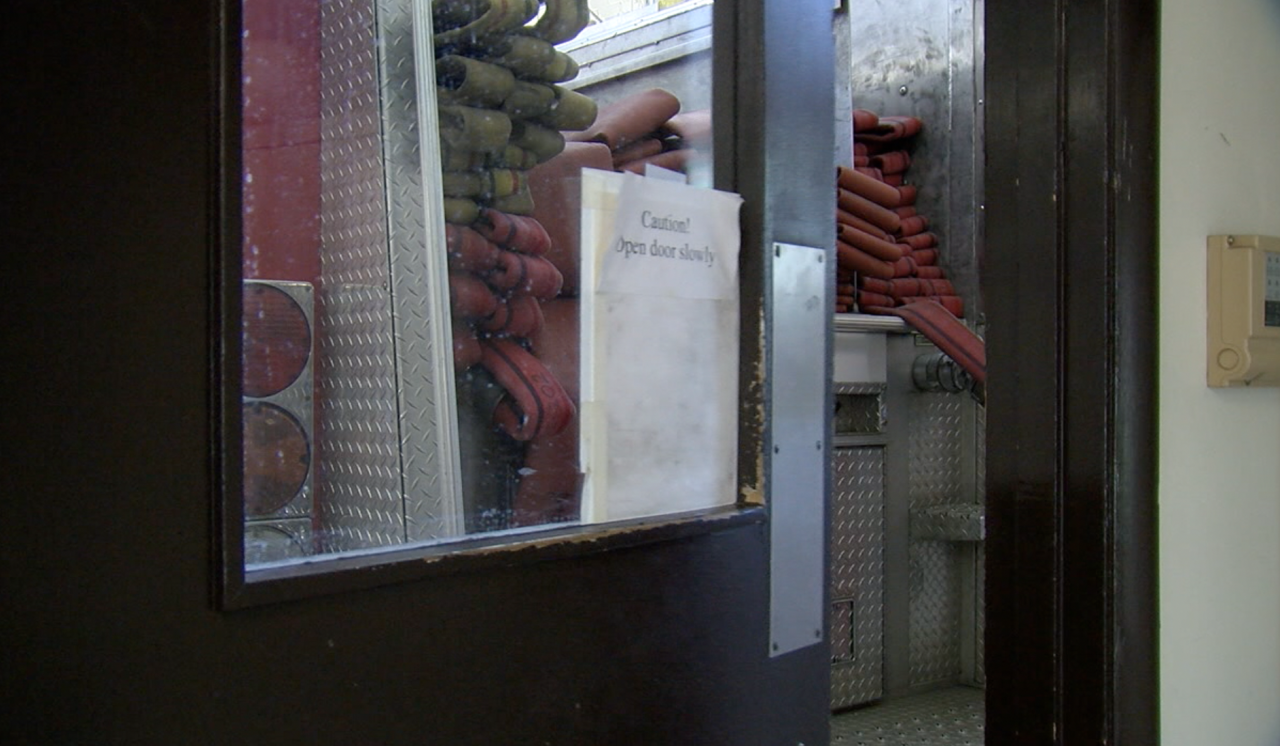 The first floor bathroom, which Salmons described as "a box," is so tiny the door won't open if the toilet seat is down. Space is so tight that uniforms are stored in rolling lockers.
Firefighters here have been on a waiting list for a new station since 1996. But that isn't coming anytime soon.
The city of Cincinnati has a $57 million funding gap this year to maintain "core functionality" of its facilities. That deficit will grow to $170 million in five years without a new revenue stream, and the closure of city facilities will be unavoidable, according to the city's budget.
After years of receiving minimal maintenance, many city-owned buildings are reaching the end of their lifespan.
"Well we can't build it if we don't have the money, right? It all comes down to money," Salmons said of the $5.5 million needed to build a new Station 49.
City Manager Patrick Duhaney was blunt about the mounting needs of the city's aging streets, roads, bridges, health and recreation centers, police and fire stations in this year's budget.
"As emergency work and repair become more commonplace and the deferred maintenance list grows this presents a problem that is both insurmountable with current funding sources as well as a potential safety hazard to the residents and employees of the city of Cincinnati should a catastrophic failure occur," according to the budget.
Still, the city's aging infrastructure got no attention at budget public hearings in May and June, where taxpayers focused instead on funding human services, such as the Center for Closing the Health Gap, as well as economic development programs and neighborhoods.
"I think capital (needs) - the only time you hear about it is when it's not working," Duhaney said. "So if you're hearing about a capital need of the city, it's because something has failed."
A 2015 city facilities assessment report warned of possible failures in old buildings, specifically a "potential collapse" of the floor of the Department of Public Service's municipal garage could happen "within four years."
Now, four years later, deputy public services director Joel Koopman says the garage floor has been inspected and is safe.
"It's structurally safe as long as you stay within the load requirements," Koopman said.
This means fully loaded dump trucks must be emptied before they can enter the garage for repairs.
Built in 1934, mechanics perform thousands of repairs to city vehicles in this unairconditioned building that is sweltering in the summer.
When the garage was built, vehicles were much smaller and lighter, so only a portion of the floor can accommodate modern fire engines. It is a constant chess game as workers spend hours maneuvering trucks in and out, while trying to accommodate other vehicles waiting outside for service.
In the basement where police cars and other light vehicles are repaired, icicle-shaped stalactites hang from the ceiling from water dripping through the floor above.
City workers don't worry about the floor collapsing, Koopman said, unless they hear a loud noise or see someone driving the wrong vehicle on the floor above them.
"To put it simply -- this structure wasn't built to handle the weights of the vehicles we have today," Koopman said.
Not only does the city lack the $36 million to build a new municipal garage, it likely doesn't even have the $1 million needed to replace its roof. Patchwork repairs will have to do, city officials say.
"The city is responsible for maintaining a vast amount of infrastructure," Duhaney said. "There was a period of time when the city was probably double the size of where it was now so we had a higher tax base. Those are some of the things that kind of got us to the situation we are in today."
The city also doesn't have the $2.5 million needed to demolish the West Fork Incinerator and clean up the hazardous waste that has been inside the brick building where the city once burned trash until federal regulations shut down it down in 1971.
The city currently budgets roughly $2 million per year to fix 88 buildings – including City Hall, Centennial II, fire and police stations, the garage and other facilities where 3,500 city employees work.
That's $23 million less than what the city needs. By 2025, that deficit will grow to $62 million. When park infrastructure, recreation and health centers are included, that funding shortfall climbs to $170 million in five years.
"At the current rate of funding we are investing less than an average homeowner. We are in essence the bad neighbor nearing the level of the slum lord," according to a 2016 city facilities report urging leaders to spend more on infrastructure.
That report singled out the municipal garage as the most in need of replacement. Second on the list was Fire Station 8 in Pleasant Ridge, which resembles a large Tudor built in 1931.
The city recently added new bathrooms to Station 8 to accommodate male and female firefighters. But both sexes still share a common sleeping room.
Other worries here: The decontamination sink is a few feet from the kitchen, diesel fumes flow from the garage to the kitchen through a swinging door, and concrete falls from the ceiling of the basement workout room.
"All that weight just pushes down," Koopman said. "The trucks aren't going to fall through – but you don't have this in a new station. You don't build basements under massive trucks."
Officials insist this firehouse, and all city buildings, are safe for workers. But Fraternal Order of Police President Dan Hils isn't so sure.
He says the unfenced parking lot in District Five's temporary station in a College Hill strip mall leaves officers exposed to attack, and doors and windows need more safety barricades.
"Police infrastructure seems to be an afterthought for city council and city leaders," Hils said.
Officers moved out of the old District Five on Ludlow Avenue last March, after complaining about working conditions there. It is uncertain how long they will be in the temporary location. City leaders must still decide where to build a new District Five and how to pay for it.
"If they're going to be there longer than a temporary nature, we're going to have to build it up to code," Duhaney said, acknowledging Hils' concerns.
City Council took $9.4 million from a fund initially set aside to build a new District 5 headquarters in April, in order to repair Columbia Parkway from landslide damage.
"When emergencies come up, we look at the budget. We look at what's needed and what could be deferred a little longer in order to focus on the main emergency issue at the moment," said Duhaney, who predicts climate change will cause more emergency events, placing an even bigger strain on the city's capital budget.
And there are other unexpected costs. A federal ban on Freon in 2020 means the city must replace 120 air conditioner units in its buildings at a cost of $8.5 million. Only $3.8 million is budgeted with no funding plan for the remainder.
Duhaney is planning to bring these issues back to City Council this summer, with detailed presentations on the condition of aging infrastructure, roads and bridges.
One potential source of new funding is a ballot referendum to raise the city's earnings tax. That would need the support of City Council and voters.
"It's hard to tell people … do you want to take extra dollars out of your pocket that you use to support your family and put it to this nebulous need of taking care of the good of the people?" Duhaney said.
In the meantime, firefighters at two of the oldest stations in the city will keep making due in their current buildings. But it doesn't come without a cost.
"That neighborhood might need an ambulance," Koopman said, referring to 88-year-old Fire Station 8 in Pleasant Ridge. "Well we can't fit one there."