She could see a flash of fear in his eyes as she called out for help, pleading for him to save her from her revolving-door prison in the direct line of gunfire.
Whitney Austin had tried to get up after she'd taken the first round of bullets and dropped to the ground inside the entrance to the Fifth Third Center. It was only when the shooting stopped that Officer Al Staples could safely move her.
RELATED: Nine people tell the story of the 2018 Fifth Third shooting and its aftermath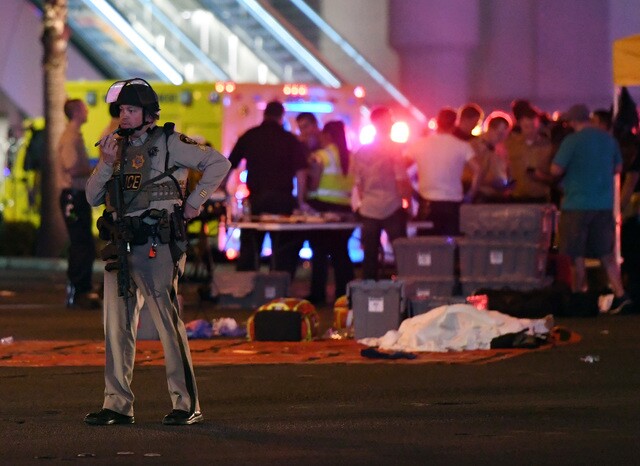 Leah Matthews looked at the man bleeding through his shirt. He was as in as much shock as she was, but his eyes made it clear he needed help.
They were on the ground, sheltering behind a table as bullets continued to rain on the Route 91 Harvest Festival in Las Vegas.
The women's experiences were different but shared. These two mass shooting survivors met this year in Cincinnati and began to plan to build a survivors network.
"I want it first and foremost to be focused on healing and what we can do to help each other heal," Austin said. "And then I want to use that energy to help move the movement forward because I think no one is more dedicated to preventing the loss of life than survivors."
Austin was one of two people who survived being shot on Sept. 6, 2018, when Omar Enrique Santa-Perez opened fire inside the lobby of Fifth Third Bank's downtown headquarters, killing three.
"I remember going through a lot of options: 'Well, get up, that's how you're going to survive. You're just going to walk out of this thing.' And I couldn't," she said.
On Oct. 1, 2017, Matthews found herself on the ground in front of the empty stage where Jason Aldean had started "When She Says Baby" moments before. It was a music festival she'd been coming to for years. This time, to her right, a woman lay on her back, lifeless eyes staring up toward gunfire.
"I just remember being on the ground and trying to think about — 'There's no way this is happening. This is happening. You're in a mass shooting,'" she remembered. "'OK, this is a mass shooting and you're probably going to get shot. Oh no, I'm definitely going to get shot. I'm probably going to die here tonight.'"
Matthews was one of the lucky ones. 58 people died and more than 400 were hurt in what remains the deadliest mass shooting in United States history. Investigators said they would never know why Stephen Paddock opened fire that night.
She called her mom in New Jersey first that night, hiding alone on an apartment patio.
"I said, 'Mom, I'm fine. There was a shooting. A lot of people died. You're going to see it. It will be on the news. I'm OK. I'm by myself. I don't know how I'm getting home, but I'm OK,'" she said. "I feel terrible for what I know I put my mother through that night."
Austin lay on the base of a flagpole on Fountain Square and demanded to speak to her husband Waller.
"I said, short and sweet, 'I've been shot all over, honey, it hurts so bad, but my heart is beating really strong, and I'm taking deep breaths without a problem, and I know that my brain is working. These are all good things. Just get up here now.'"
Austin would require months of physical therapy for her hand, arm, and other injuries. Matthews escaped with a banged-up arm.
Austin turned her focus to a foundation, Whitney/Strong, to save lives from gun violence of all types by advocating for responsible gun ownership. Matthews left Las Vegas to try to start over, find her new normal, find a new purpose.
"There's a saying, in tragedies, 'always look for the helpers,'" she said, paraphrasing Fred Rogers. "I was not a helper that night, and it really bothers me."
So, early this year, Matthews found herself on the University of Cincinnati campus for a Stop the Bleed class. She went to learn how to use a tourniquet — how to be a helper the next time something terrible happened.
The instructor that night read a letter from Austin, who was home in Louisville but wanted attendees to understand how Stop the Bleed techniques saved her life outside the Fifth Third Center months prior.
Whitney Austin Letter by WCPO Web Team on Scribd
"It just like took my breath away because — I don't know this woman and I understand so much of what she's been through, minus the physical pain," Matthews said.
She reached out to the Foundation on Facebook, writing, "I'm also a massacre survivor from Las Vegas. If there's anything I can do for you, please let me know."
"In having a conversation with her, it was another one of those moments when I recognized how different everybody's traumatic situation is," said Austin. "While I don't have memories or visuals of that day, she — there's no way for her not to."
They became friends. They met for coffee. And Matthews was brought on to help Whitney/Strong on its next major project.
"You just instantly connect with someone that has been through this type of situation," Austin said.
It didn't matter if that someone was in a headline-grabbing mass shooting or one of the dozens of shootings each year in Cincinnati's neighborhoods. There would be a place for them in the survivor's network.
"We're getting close to reaching critical mass, " Austin said. "Not just of people getting shot but people that dove behind the Dunkin Donuts counter, of people that were in the buildings looking down on Fountain Square, my peers at Fifth Third.
"Those are all people that have now been changed forever because of this moment."
Matthews came to Cincinnati still worried about crowds, public places, and the sound of fireworks. She moved to The Banks specifically to confront them all.
"Pre-Route 91, I would have loved to live in the heart of a city, so this is me trying to work through that," she said. "I guess that's what I wanted to tell people too, that I talk to. You're allowed to feel however it is you want to feel. You're allowed to feel angry one second, upset another, and even have happiness throughout the day. You're allowed to feel however you feel, whenever."
Matthews says her work starts in earnest after the Whitney/Strong fundraiser in Louisville Sept. 6, the one-year anniversary of the Fifth Third shooting.
This is another way to be a helper. She went to Dayton in the days after the deadly mass shooting in the Oregon District—– just to talk.
"It can truly happen anywhere," she said. "I went to a concert and my life changed."