CINCINNATI — Arianna Jones was 17 years old and about to start her senior year when she became homeless.
"I was kicked out of the house," she said, her eyes welling with tears. "I didn't really have so much support there, except for one person."
Jones stayed off the streets and out of homeless shelters as she finished high school. She spent her nights with friends, sleeping on couches or wherever they had space, and got her own apartment when she was 19.
"The emotional stress, the physical stress, the, just, mental stress was just very overwhelming for me," she said. "It wasn't the best experience, but it was the best experience for me to see and live in the worst way possible."
Now Jones is using that experience to try to help others. She's part of the team behind a plan called KEYS to a Future Without Homelessness that aims to reduce youth homelessness in Cincinnati and Hamilton County. The plan is scheduled to launch March 4. Its goals are to:

Prevent youth homelessness before it occurs
Provide safe and appropriate shelter to homeless youth that want -- but don't have -- shelter
Reduce the amount of time young people are homeless
Ensure that young people leaving the homeless system have the support they need so they don't become homeless again
And encourage innovation and change within the system that works to prevent and reduce homelessness in Cincinnati and Hamilton County
In a typical year, Cincinnati and Hamilton County have about 600 young adults between the ages of 18 and 24 staying in local homeless shelters, said Bonita Campbell, vice president of homeless youth services for Lighthouse Youth & Family Services.
The KEYS plan aims to cut that number in half by 2020 and continue to reduce it from there, she said.
To reach those goals, the plan is focused on the specific needs of young adults and how they differ from the needs of older people experiencing homelessness, Campbell said.
"This population is out there kind of with no one who's helping them develop, who's helping them make those decisions, who's picking them up when they're falling," Campbell said. "If we end their homeless episode now, then we've not only impacted youth homelessness, we've impacted adult homelessness — period."
'I feel that pain all over again'
The KEYS plan has been in the works for years.
In 2017, the U.S. Department of Housing and Urban Development selected Cincinnati and Hamilton County as one of 10 communities to receive a nearly $3.9 million grant through its federal Youth Homelessness Demonstration Program. A total of 130 communities had applied for the money.
Strategies to End Homelessness and Lighthouse Youth & Family Services assembled a team to research the problem and come up with new strategies to reduce youth homelessness. It included representatives of housing providers, educators and local organizations and community groups that work with homeless youth.
However, the most important members of the team are young people like Jones who have experienced homelessness themselves, Campbell said.
"Not a decision was made without young people being at the table saying, 'This is what we think will work for us,'" she said.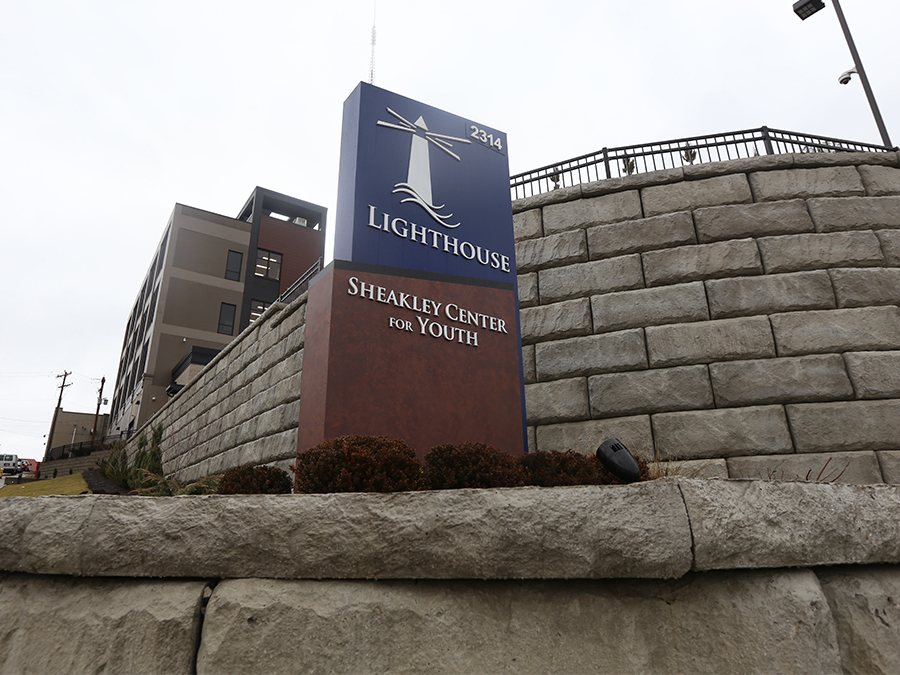 Jones and other members of the Lighthouse Youth Advisory Council talked frankly about what they needed as homeless youth and how the system could have helped them more.
After spending about $100,000 on research and planning, Strategies to End Homelessness, Lighthouse and their partners have the rest of the grant money to implement the plan over the next two years, said Kevin Finn, the CEO of Strategies to End Homelessness.
The total cost over the next two years includes the federal funds and local matching dollars for a total of roughly $4.75 million, he said.
One of the biggest innovations to come out of the KEYS plan is the creation of a Youth Dedicated Services Team. The team of case managers will work with young people one-on-one for up to 24 months to help connect them with whatever services they need and try to ensure they never become homeless again.
"We're building this really expert-level of service providers that can provide the best practices for serving youth in a consistent way across the system, no matter where the youth decides to access services from," said Jamie Hummer, program department director for Strategies to End Homelessness.
Having someone as a single point of contact will reduce the number of times homeless youths have to tell their stories to strangers and build trust during a time of crisis, Jones said.
"Having multiple case managers to talk to would be so overwhelming. One caseworker knows this, the other knows this," she said. "My situation happened almost about three years ago, and me talking about it every time, I feel that pain all over again."
The Youth Dedicated Services Team should reduce the amount of trauma young people endure as they interact with the system that's working to help them, Finn said.
"Hopefully they get what they need much more quickly and get out of homelessness much more quickly," he said, "all of which will reduce what they end up experiencing while they're homeless or at risk of being homeless."
Ending youth homelessness
There also is a new Data Dashboard that tracks how many young people are experiencing homelessness, how long they are homeless and whether they become homeless again.
The dashboard also has demographic information about homeless youth in Cincinnati and Hamilton County, including their race, gender and whether they are raising children themselves.
For example, the dashboard shows that Hamilton County had 598 homeless youth between the ages of 18 and 24 last year. Fifty-nine of those young people were raising a total of 91 children.
"A part of this population is essentially kids with kids," Finn said.
Those young adults have different challenges, including finding quality childcare so they can work or go to school. 4C for Children has a team that helps homeless families with children do that, said Eileen Hopkins, the agency's strategic director of program operations.
"We're making sure that families that are living in shelter have access to quality care," she said, "even families that aren't necessarily connected to shelters and don't identify as homeless but are."
The Children's Law Center in Covington also will be working with homeless youth as part of KEYS.
The center will have a staff attorney at the Lighthouse Sheakley Center for Youth homeless shelter several days a week to help caseworkers and young people directly, said Acena Beck, the Children's Law Center executive director.
The center will do monthly presentations on topics such as clearing up a fine to get a driver's license, sealing or expunging juvenile court records and avoiding eviction, she said.
"Let's say they're living with a family member who is in public housing, and they're facing something that could cause the whole family to be evicted," Beck said. "Sometimes we're able to work with the landlord or public housing authority to negotiate a second chance kind of contract."
Jones said it's all about giving homeless youth the help they need and are ready to accept and then sticking with them as they work to rebuild their lives.
"If this was around when I was going through what I was going through, I would have been OK," she said. "Some people are only going to get so far based on them. Whenever you're ready, we're ready. But we're not going to leave you. We're going to be there until the end. That's the very, very end."
The ultimate goal is to end youth homelessness, Campbell said, although everyone involved in KEYS knows it will never be gone completely.
"To end youth homelessness basically means that every young person knows that there is a place that they can access services and that they can quickly end their homeless episode," Campbell said. "There will unfortunately probably be a situation where a young person needs access to a safe place. We want to make sure we have that available for them but that they can quickly leave."
The quicker the better.
The full KEYS to a Future Without Homelessness plan is available online. The Data Dashboard that is part of the plan is online, too.
Lucy May writes about the people, places and issues that define our region – to celebrate what makes the Tri-State great and shine a spotlight on issues we need to address. Poverty is an important focus for her and for WCPO. To reach Lucy, email lucy.may@wcpo.com. Follow her on Twitter @LucyMayCincy.