CINCINNATI — Jada Tye was nervous about a lot of things when she was pregnant.
The 16-year-old high school junior said she worried about whether she would be able to graduate, for example, or ever go out with her friends again.
Then a friend told Jada about Rosemary's Babies Co., a nonprofit organization with a mission to help teen parents become confident leaders and leave a legacy. It was just what Jada needed, she said.
"Sometimes when I'm upset or sad or maybe happy or sad, she's someone I can call and talk to," Jada said of Rosemary Oglesby-Henry, the nonprofit's founder and CEO. "Rosemary's Babies, they give you hope and let you know that your life's not over, that you can still make it through everything."
Oglesby-Henry understands because she's been there. She became a mom at the age of 16 and started living on her own with her baby when she was 17.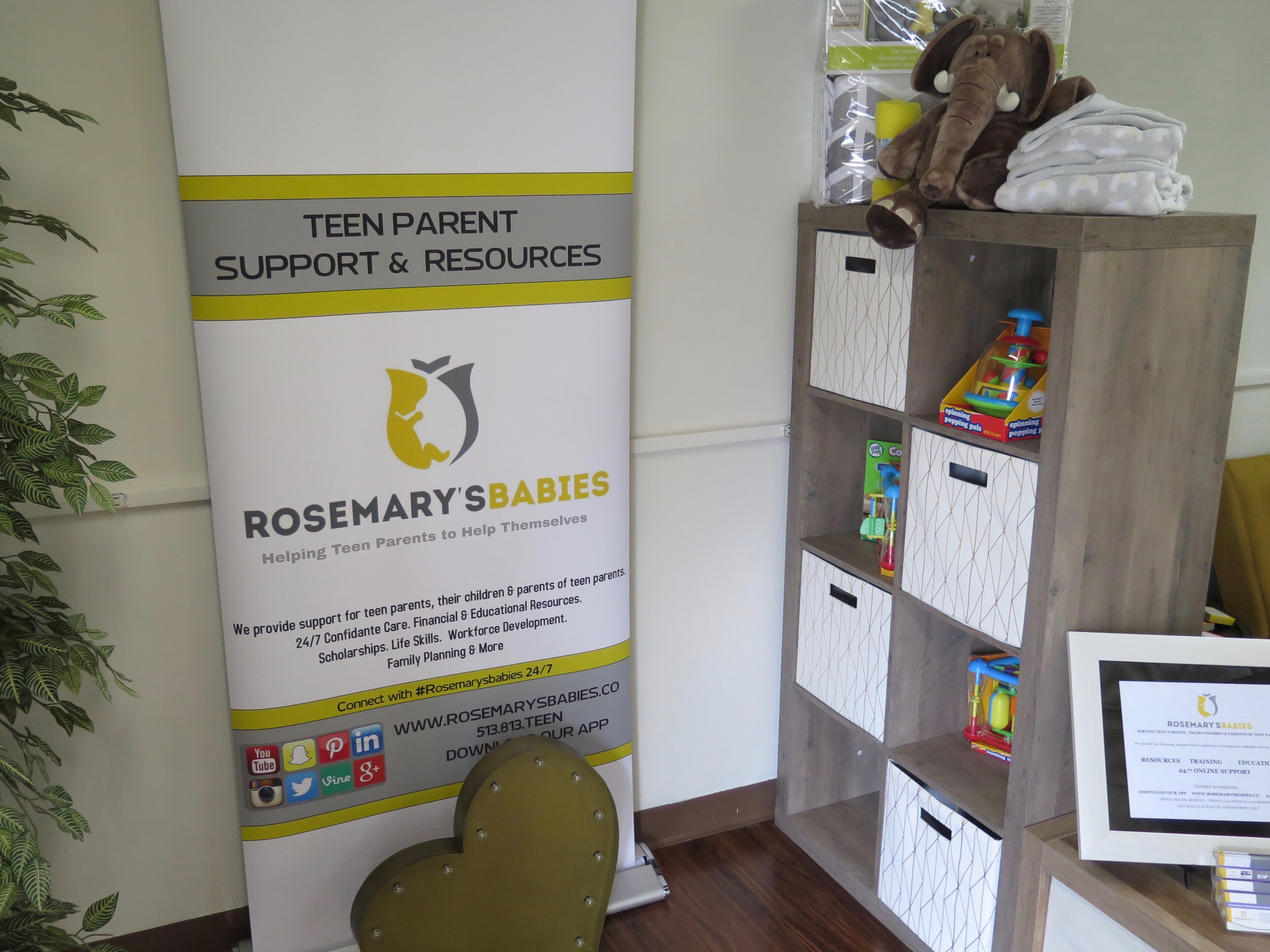 "I ended up feeling lost and emotionally drained. I lost a lot of friends. I was ostracized and stereotyped as being a 'fast girl,'" Oglesby-Henry said. "Life didn't have to be that hard for me. I had already made the first adult decision I had ever made to be a parent to my child."
Oglesby-Henry founded Rosemary's Babies in late 2016 to help give teen parents the life skills they need to succeed and provide a good start for their children.
The organization will hold a family panel discussion Feb. 28 called "My Baby. My Rights. My Parent's Choices" to help teens and their parents understand their rights when it comes to teen parenting. The event is free; registration is requested so Oglesby-Henry knows how many people to expect.
Knowing their rights
Oglesby-Henry said she was inspired to organize the panel discussion after learning about a bill that was introduced in the Ohio House of Representatives during the 2017-2018 legislative session.
House Bill 302 was written to "authorize a pregnant minor to consent to receive health care to maintain or improve her life or the life of the unborn child she is carrying."
It did not become law.
"Teen mothers were in labor, and if their parents weren't there they were forced to deliver their babies naturally," Oglesby-Henry said, citing examples from other parts of the state that were reported by media outlets. "If they did want pain medications, social services would have to come in."
Oglesby-Henry decided the community needed to have a discussion about the rights of teenage parents and the parents of those parents.
Panelists will include lawyers, the executive director of a local pregnancy center, a medical professional from UC Health and Cincinnati City Councilman Jeff Pastor.
"I'm really hoping that we dive into the steps that would happen if a teen may become pregnant, what are their rights then," Oglesby-Henry said.
There are teens having babies while they're in foster care and others having babies while they're incarcerated, she said. They need to know what their rights are in addition to learning how to be good parents to their children.
Speak up
Julie Bell said she regularly encounters confusion among teen parents and their parents.
"One of them would be, if the minor is diagnosed and treated for an STD, they don't need parental consent for that," said Bell, the clinical manager for Community Women's Health at the University of Cincinnati Medical Center. "That is a private part of their medical record."
Bell said she's never had any of her teen patients being denied pain relief during labor and delivery.
"We've never had an issue with parents not wanting that," she said, and for teen moms who are alone, "we would definitely allow them to consent for that."
The more common misconception is about contraception, she said.
If teens want access to birth control pills or an IUD, they are allowed to get that without a parent's permission, Bell said, and that's something many teens' parents don't know.
From Bell's perspective, the most important thing for pregnant teens to know about their medical care and treatment is that they need to ask questions and advocate for themselves, she said.
"I feel like a lot of the teens, because they are young, they may think they don't have the words," Bell said. "But it doesn't matter. They just need to understand that it's important to speak up. They have to learn to speak up for themselves and advocate for themselves."
Bell will be part of the panel discussion Thursday and said she hopes to stress that message then.
More information about the panel discussion, including how to register for the free event, is available online.
Lucy May writes about the people, places and issues that define our region – to celebrate what makes the Tri-State great and shine a spotlight on issues we need to address. To reach Lucy, email lucy.may@wcpo.com. Follow her on Twitter @LucyMayCincy.