CINCINNATI — Four Winton Hills Academy students visited Cincinnati civil rights pioneer Marian Spencer in December to show her a book they created about her.
The girls visited again on Monday, this time to tell Spencer their book won a national competition.
Spencer gave each young author a hug and kiss on the cheek before thanking them for the honor.
"I expect them to do well in everything, especially in school," Spencer told the girls' principal. "Our future is in them."
This is the second year in a row Winton Hills students have won a national book-writing competition sponsored by the Pennsylvania-based National Youth Foundation. This year's was called the Amazing Women's Edition.
"We're so proud of these girls, and we know what they're capable of," said Julie Dellecave, the girls' fourth-grade teacher. They're "learning that working hard at something and really doing their best pays off in life. And I think that's really an example to all of our students here."
The four students -- Serenity Mills, Janyia New, Aliyana O'Neal and Nakiyah Ray -- worked together to write and illustrate "Marian Spencer: A Light in the Darkness."
The 20-page book tells the story of Spencer's life and accomplishments, describing her birth in 1920 as "a small but bright light" that came into a "world of darkness that needed faith and courage to light the way."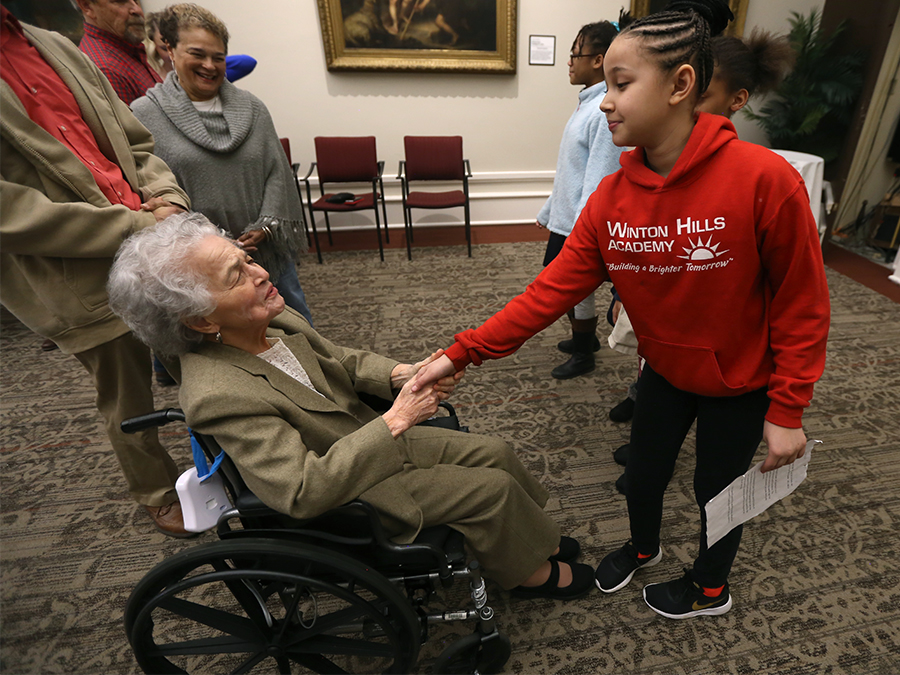 "We will try to follow in your footsteps," Janyia told Spencer on Monday.
The girls decided to write about Spencer because Joe Wilmers, a retired Winton Hills Academy social worker, told them about her and her accomplishments.
"We looked up things on the Internet," Nakiyah said. "What she does and what she did do back then was so great."
"Just because you're not a celebrity or famous," Aliyana said, "doesn't mean that you can't do something big."
"She has stood up a lot of times for what she believed is right," Serenity added.
'Shining through the negativity'
"Marian Spencer: A Light in the Darkness" describes how Spencer grew up in Gallipolis, Ohio, saw members of the Ku Klux Klan march in front of her home and how she joined the NAACP at the age of 13 to try to make a difference.
It also chronicles her accomplishments as a civil rights pioneer, from speaking out about the whites-only prom at the University of Cincinnati when she was a student there, to taking a stand against the segregation of Cincinnati Public Schools.
Spencer is perhaps best known locally for her successful efforts to integrate Coney Island and its swimming pool in the 1950s, which the girls also highlighted in their book. In 1983, Spencer was the first black woman elected to Cincinnati City Council and served as vice mayor.
"The darkness is really supposed to be the negativity," said Aliyana, who is 9. "And it was showing how the KKK was so negative. And the lightness was supposed to be her positivity, shining through their negativity."
The girls' book was one of two finalists that were tied for the win, Dellecave said.
Daniel James Brown, author of the New York Times best seller "The Boys in the Boat," broke the tie and picked the Winton Hills students' book because of the way they used that metaphor throughout the story, she said.
The National Youth Foundation will print the story as a hardcover book, Dellecave said. Each student will get a copy, and the foundation will send copies to libraries, too, she said.
Dellecave helped the girls with grammar and held them to high standards when it came to the illustrations, she said. The project took several months to complete.
When the young authors met Spencer in December, she gave the girls this advice: "When something is wrong, you have to be brave enough to stand up and do the right thing."
Her words resonated with them, they said.
"My biggest impact about this is that she inspired me to be more of a positive person and to continue to follow in her footsteps and become even better of a person and do more stuff like writing books," Aliyana said. "Just being more like her. Not copying her, but her personality."
'A big, big deal'
Serenity and Janyia both said they have confronted students at school who were bullying others. Nakiyah said she prefers not to get directly involved, but she has gone to tell the teacher when she sees someone getting bullied.
Wilmers said he wasn't surprised that meeting Spencer made such an impact on the girls.
For many years, before Spencer moved into a retirement community, he took a select group of some of Winton Hills Academy's brightest girls to meet Spencer and have ice cream with her at her home.
"Every year I went to take the girls, I would tell them, 'listen, this may be the most important person you'll ever meet in your life,'" he said. "She's the most important person I've ever met."
The girls will fly to Philadelphia Friday for an awards ceremony. It's the first time any of them have ever been on a plane, they said. Some are nervous, but they're all excited about seeing the Liberty Bell and staying at a big hotel downtown.
The Friends of Winton Hills Academy, a small foundation that helps support the school's students, is paying for the bulk of their trip.
"This is a big, big deal," said Wilmers, a member of the foundation's board. "It has as high a poverty rate as any school. But if you have good teachers and you have a foundation that's helping kids like them fly to Philadelphia, you can make great things happen."
Each girl will get $125 prize, money that most say they're planning to save. As excited as they are about winning, though, getting to spend time with Spencer will be difficult to top.
"I was nervous because I didn't know what to say," Janyia said. "She was sweet and nice."
"My biggest impact in this whole entire thing was getting to meet Marian Spencer," Serenity said.
The girls were so excited before their first meeting, Dellecave said "They actually told me they would rather meet Marian Spencer than Beyoncé."
"I hope Beyoncé doesn't see this," 10-year-old Nakiyah said in response.
Hard to imagine Queen Bey would be offended.
Spencer is a star, too -- one whose light the girls described so beautifully in their book.
For her part, Spencer doesn't plan to stop shining any time soon.
"If I'm six feet under, and something's going wrong up here," she said with a wry smile, "I'm going to say, 'You all get busy. You've been quiet too long!'"
Information about the Friends of Winton Hills Academy foundation and how to donate is available online.
Lucy May writes about the people, places and issues that define our region – to celebrate what makes the Tri-State great and shine a spotlight on issues we need to address. To reach Lucy, email lucy.may@wcpo.com. Follow her on Twitter @LucyMayCincy.