Artists with the most Grammy nominations without a win
Heading into Sunday's Grammy Awards, 11 artists have been nominated at least 13 times and not won a Grammy.
Katy Perry - 13 nominations Despite winning five American Music Awards and five Billboard Music Awards, Katy Perry is still looking for her first Grammy Award. She received her first Grammy nomination in 2009 with "I Kissed a Girl." She was nominated at least once every year from 2009 through 2015.
Photo by: Ethan Miller
Spyro Gyra - 13 nominations Jazz fusion band Spyro Gyra had its first Grammy nomination in 1980, and its most recent one in 2010, but despite more than three decades as one of the leading jazz fusion bands, Spyro Gyra has not won a Grammy.
Photo by: Frazer Harrison
Nas - 13 nominations Hip hop artist Nas was first nominated in 1997 for a Grammy Award for Best Rap Solo Performance. He most recently recieved four Grammy nominations in 2013 for Best Rap Album, Best Rap Sung Collaberation, Best Rap Song and Best Rap Performance. Despite not winning a Grammy, Billboard.com named him one of the 10 Best Rappers of All Time in 2015.
Photo by: Bryan Bedder
Toshiko Akiyoshi - 14 nominations Toshiko Akiyoshi, best known for being a jazz pianist, leads all females with 14 nominations without a win. Akiyoshi was nominated for Best Jazz Instrumental Performance 10 times, including six nominations in a row from 1976 to 1981. She also recieved four nominations for Best Arrangement on an Instrumental.
Photo by: Keith Tsuji
Martina McBride - 14 nominations Despite being nominated for Best Female Country Vocal Performance nine times, McBride has yet to win a Grammy. Despite striking out at the Grammys, she has won three Best Female Vocal Performance nods at the Country Music Awards.
Photo by: John Shearer/Country Rising
Dierks Bentley - 14 nominations Tied for fifth on the list, Bentley has walked away from eight Grammy Awards empty handed, most recently in 2017 for Best Country Duo/Group Performance for his collaberation with Elle King for "Different for Girls." Bentley has recieved three Best Country Album nominations and two for Best Country Song. Bentley has had more luck at the Country Music Awards, where he has won three times.
Photo by: John Shearer/Country Rising
Bjork - 14 nominations Icelandic pop sensation Bjork earned her first Grammy nomination in 1994 for Best Music Video, Short Form for her song "Human Behaviour." She was most recently nominated for a Grammy Award in 2016 for Best Alternative Music Album, a category she has recieved four nominations for.
Photo by: Jim Dyson
Joe Satriani - 15 nominations Ranking fourth on this list, Satriani has recieved all but one of his nominations under the Best Rock Instrumental Performance category. He was first nominated in 1989, and most recently up for a Grammy in 2008. The award had 14 different recipients each time Satriani was nominated. Carlos Santana, Pink Floyd and Bruce Springsteen were among those who beat out Satriani for the award.
Photo by: Ethan Miller
Brian McKnight - 17 nominations R&B artist Brian McKnight was nominated for 17 Grammy Awards from 1994 through 2005, but never won a Grammy. He was nominated five times for Best Male R&B Vocal Performance over the course of seven years. The 2002 Grammy Awards was the most disappointng one for McKnight, as he had five nominations, including two for the song "Love of My Life."
Photo by: Jonathan Leibson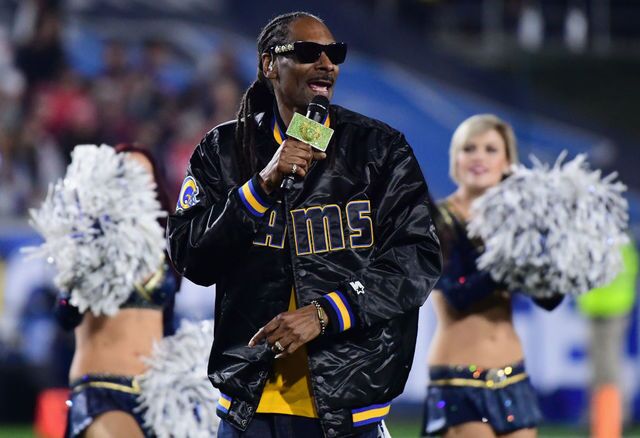 Snoop Dogg - 17 nominations Snoop Dogg has been nominated for 17 awards, and has yet to walk away with a Grammy. Among the Grammys he has been nominated for, he has three Rap Song of the Year nominations, three Best Rap Performance by a Duo or Group nominations and a pair of Album of the Year nominations. He was last nominated for a Grammy in 2016 for Album of the Year for"To Pimp a Butterfly."
Photo by: Harry How
Morten Lindberg - 20 nominations The current record holder for most nominations without an award is likely someone you have never heard of. Sound engineer Morten Lindberg has the distinction of having the most Grammy nominations without a win. He has had at least one nomination at 10 of the last 11 Grammy Awards. In addition to his 20 past nominations, he also has four pending nomations for this year's Grammy Awards.
Photo by: Jason Merritt