LOVELAND, Ohio — Rob Deubell wouldn't leave his dying father. He refused to leave the Lodge Nursing & Rehab Center on March 30 when visiting hours ended at 5 p.m., even after staff members called the Loveland Police.
"If I had to go to jail, I would have gone to jail," Deubell said.
But Loveland police said they were able to broker a compromise with nursing home operators that allowed Deubell to stay with his father overnight. So when Bob Deubell, a former University of Cincinnati assistant vice president who was known to his family as Bubba, died at age 89 several hours later, he was holding his son's hand.
"At 2 o'clock in the morning he passed," Deubell said. "That is probably the most terrifying moment of all of our lives … and to be alone in a hospital or a nursing facility without loved ones around would have been the most terrifying thing for him. I would have really regretted it I think my entire life."
What happened with the Deubell family underscores the complex and painful choices that some family members of elderly residents of Ohio nursing homes, and the people who own and operate these facilities, have been forced to make on a daily basis since state officials closed the homes to outside visitors in mid-March to quell the spread of COVID-19 to a very fragile population.
On Monday, although Gov. Mike DeWine is allowing nursing homes to resume outside visits as long as they have enough staff to meet requirements and don't have active coronavirus cases, the difficulties are likely to continue among lonely residents, concerned families and nursing home operators who must protect everyone.
Chase Kohn, chief operating officer of the Caring Place Health Care Group which owns the Lodge Nursing & Rehab Center, declined to discuss what happened with Rob Deubell.
But in a written statement, Kohn described a balancing act that nursing home operators face between the safety of elderly residents who are at risk of contracting the highly contagious virus, and the emotional needs of residents and their families.
"The health, safety, and well-being of our residents and team members is our top priority," according to the statement. "We know that this crisis is particularly challenging for our residents and their families. We empathize with their feelings of separation and vulnerability, and we want to thank them for their ongoing support and trust."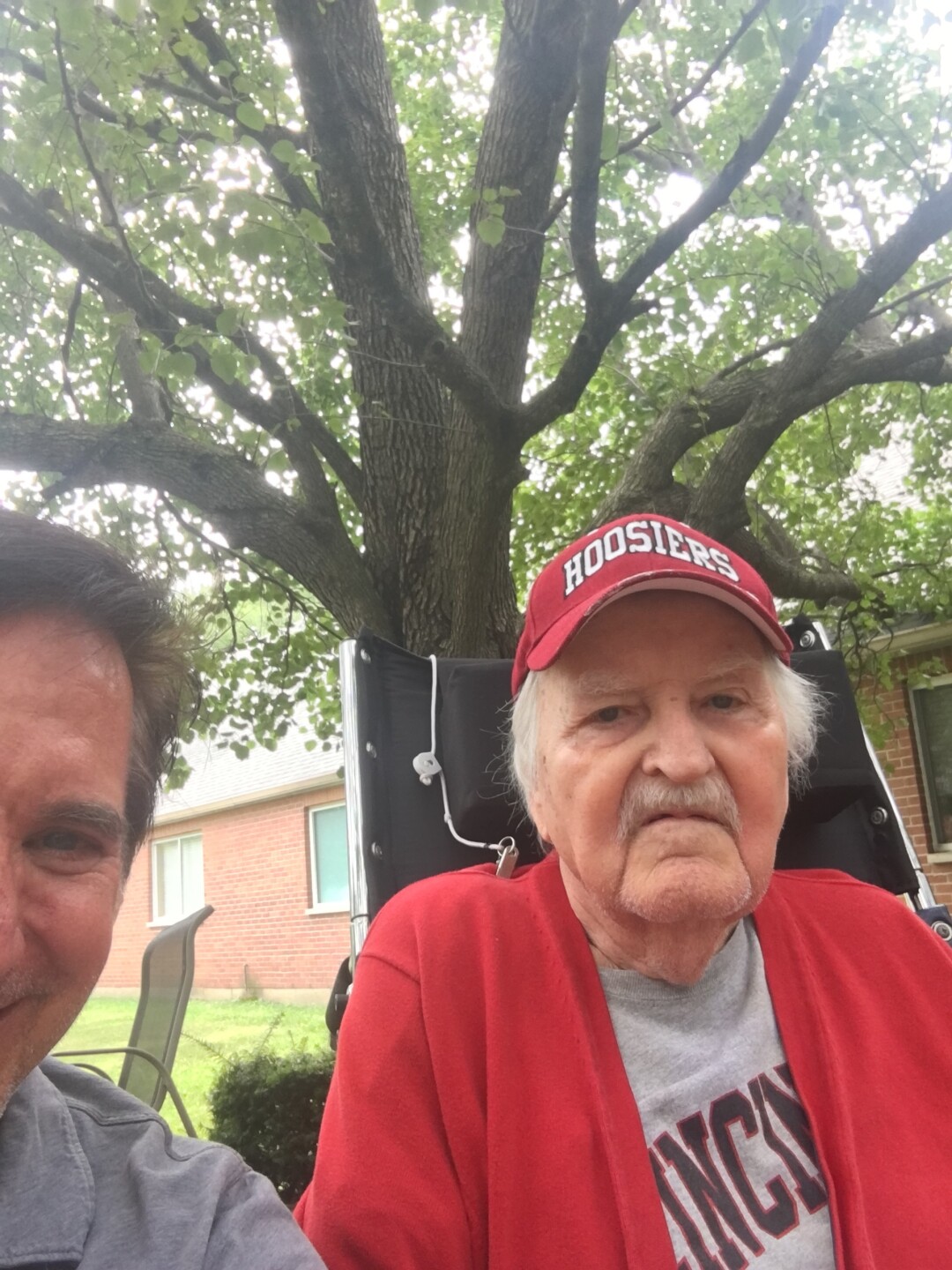 Deubell said his father took a turn for the worse in February, when his dementia made doctors switch him to a pureed food diet. His father lost 50 pounds in one month, Deubell said.
"He really would not eat at that point. I mean it was very difficult to get him to eat," Deubell said.
Deubell said he and his sister took turns feeding their father at lunch and dinner visits to the Lodge and his weight stabilized. Then Ohio officials closed nursing homes to outsiders in March due to the pandemic and the mealtime visits stopped.
"We couldn't talk to him, we couldn't see him, couldn't hold his hand. All the things that really make a difference for him and for us," Deubell said.
Two weeks later Deubell got a call from nursing home staff that his father was dying. The Lodge allowed the family, including grandchildren to visit on March 30 and they spent the time praying, holding hands and saying goodbye, Deubell said.
Knowing that his father was close to death, Deubell said he refused to leave when nursing home administrators said visiting hours ended.
"At that moment because it's now 5 o'clock, in walk the Loveland Police who got called by the Lodge basically saying at this point we're criminally trespassing," Deubell said.
After Loveland Police spoke with nursing home staff for more than an hour, Deubell said they finally allowed him to stay overnight in his father's room.
"He held my hand all the way up until the moment of death," Deubell said.
Police didn't write a report on March 30 because they were able to resolve the dispute without an arrest, said Loveland Police Lt. Kevin Corbett. It was the first and only time Corbett said he's been called to a nursing home over a disagreement like this.
But Bob Vines, managing ombudsman at the nonprofit Pro-Seniors in Cincinnati, said he has spoken to several families locally who had similar struggles getting access to dying relatives inside nursing homes.
Part of the problem is that Gov. Mike DeWine's first order closing nursing homes, but allowing end of life visits, and then his recent order reopening them to outdoor visitation, allows for wide interpretation from the operators of each facility, Vines said.
"That's caused a lot of frustration," said Vines, who advises seniors and their families in Hamilton, Clermont, Butler, Warren and Clinton counties. "We have certainly noticed an increase in calls and an increase in complaints that we've received."
Complaint calls to Pro-Seniors surged in March after state officials shut down nursing homes, according to Vines, and he said he predicts a "tsunami" of calls later this week once outdoor visits resume.
Since the Ohio Department of Health stopped performing annual inspections and complaint surveys at nursing homes in March, and most visitors were banned, there have been few eyes on patients inside the state's nursing homes, Vines said. The state health department does conduct infection control surveys and responds to complaints that a nursing home resident may be in immediate jeopardy.
"You have folks who have just been shut in their rooms … whether or not they're getting the kind of care that they need I don't know," Vines said. "And my concern is when it does open up, we may find the situation is worse than we fear. But I certainly hope not."
Pete Van Runkle, executive director of the Ohio Health Care Association, which represent more than 1,000 long-term care facilities, said when and how facilities choose to allow visitors has been very challenging.
"The end-of-life exception to the general rule prohibiting visitation in skilled nursing centers has been a challenging issue from day one. The state and federal guidelines have changed several times," Van Runkle said.
The vast majority of COVID deaths in Ohio have been reported from long term care facilities – 1,777 deaths since April 15. This accounts for 57 percent of all coronavirus deaths in Ohio, according to state health department data as of July 17.
"It is a difficult balance between protecting the other residents from potential COVID-19 infection – which is much more deadly for frail elders – and compassionately allowing family to be present during a person's last days and hours. Each facility must attempt to draw that balance appropriately in each individual situation."
Vines is particularly worried about the effects of prolonged isolation on nursing home residents.
"There's been many people who have said to me that my mom died of a broken heart. And I believe that," Vines said.
Dennis Paulik of West Chester is worried about his mother, Helen, who turns 99 in August. He's been part of a grassroots effort to reopen nursing homes.
"For her these four months, you know if she has a year left in her life, a third of her time left has been taken away. She has no chance to recover that," Paulik said.
He planned to visit his mother on Monday, but worried how she would handle the summer heat since all visits must occur outside.
While he's happy that DeWine finally allowed visitation at nursing homes, he's worried it still isn't enough to quell the loneliness of residents. He'd like to see more facility activities resumed, and more frequent and longer visitation from relatives.
"I felt like the nursing home residents were an easy group of people to ignore because nobody is going to argue against we have to protect our most vulnerable and they didn't have a voice, they didn't have a big lobby group, they didn't have lawyers," Paulik said. "I felt like they were easily overlooked."
Paulik also worries that a second surge of coronavirus cases will prompt state officials to shut down nursing homes again. And he won't have much time left with his mother.
"I think if she had her druthers she'd say 'Let me have the chance to have the choice to make whether I see people or not," Paulik said. "When you're 98 and you've lived through everything she's lived through, it's hard for her to understand why she can't make that choice and take the risk herself."
But even Vines, who has been the voice for hundreds of Southwest Ohio seniors over the years, understands why this may not be possible.
"Signing a waiver is certainly fine, I can sign away my rights if I want to. But do I also have the right to endanger you by doing that," Vines asked. "These are things that have to be weighed."