CINCINNATI — Homeless convicted sex offenders are living on public property next to playgrounds, schools and public libraries, according to "home addresses" the offenders provided to the Ohio Sex Offender Registry.
As a result of convictions for certain types of crimes, sex offenders in all 50 states are required to register current personal information, including their home address, with law enforcement agencies.
The Ohio registry describes the address for homeless sex offender Douglas Day as the "front steps of public library" at 2802 Short Vine Street in Corryville.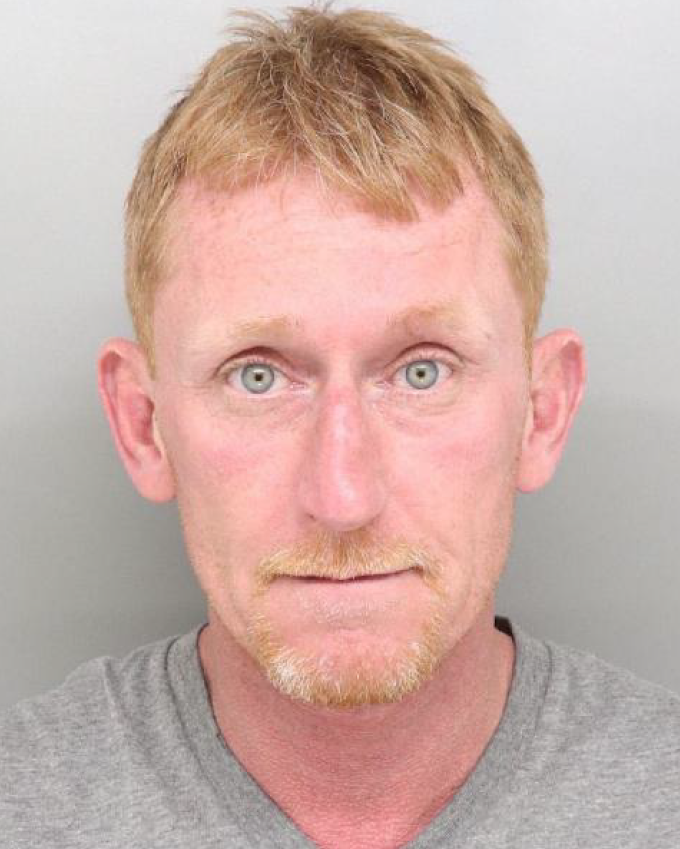 Day, 48, confessed to sexually abusing two girls in the early 1990s, according to court records.
His youngest victim was 3 years old.
WCPO 9 generally doesn't show mugshots, but we are publishing the sex offender registry photo for Day and other noncompliant offenders because they are violating conditions of their registration and law enforcement agencies are trying to find them, according to information posted on the registries.
Day was convicted of attempted rape and sexual imposition. He was sentenced in 1994 to 15 years in prison.
The Ohio registry classifies Day as a "sexual predator."
The library in Corryville where Day listed as his address is 187 feet from Clifton Cultural Arts Center, according to Google Maps.
The center provides classes and camps for children as young as 5.
"It's not like they're here for a petty theft. They're sex offenders," said Corporal Ed Shinkle with the Hamilton County Sheriff's Office.
Ohio state law requires convicted sex offenders to register with their local Sheriff's Office.
"By law we cannot deny any address that they (offenders) give us," Shinkle told the WCPO 9 I-Team.
Homeless sex offenders provide a special challenge for law enforcement, according to Hamilton County Sheriff Jim Neil.
"It's difficult," Neil told the WCPO 9 I-Team.
Ohio sheriffs are not required by law to verify the addresses provided by sex offenders.
Kentucky State Police, which maintains that state's sex offender registry, is required by state law to mail verification forms to the most recent address registered by sex offenders.
If Kentucky sex offenders don't return the forms to their local probation and parole office, the offenders could be charged with a felony.
Even though in Ohio Neil isn't required to verify addresses of sex offenders, he said at least a half-dozen Hamilton County deputies conduct field verifications while they serve court papers.
Shinkle works full time on verifying addresses of sex offenders.
"It's important for public safety," Neil said.
About 2,300 registered sex offenders live in seven Northern Kentucky and Southwest Ohio counties in Greater Cincinnati, according to sex offender registries in Kentucky and Ohio.
Those counties are Boone, Campbell and Kenton in Kentucky, and Hamilton, Warren, Butler and Clermont in Ohio.
Sheriff's Offices in Butler and Clermont counties have deputies verify addresses in person, according to spokespersons for those departments.
The I-Team twice emailed the Warren County Sheriff's Office to see if they verify addresses of sex offenders, but the Sheriff's Office has not responded.
"I believe and feel strongly that we need to monitor the offenders," Neil said.
The I-Team rode with Shinkle last week as he tried to connect with homeless sex offenders and confirm they still lived at the locations they provided during their registration.
"It's our way of keeping better track of them," Shinkle said.
Shinkle drove us to several locations listed as home addresses by homeless sex offenders.
One of them is the Wayne Recreation Area, also known as Garfield Commons Park, in South Cumminsville.
Homeless sex offender Brian Triblett registered an outdoor shelter next to a playground in the park as his home address.
"He's closer to the playground than he is the street," a clearly frustrated Shinkle told the I-Team.
Court records show Triblett was convicted in 1990 of attempted rape. He received a sentence of 8 to 25 years in prison.
"I don't like the fact that you potentially have kids here and you have a sex offender living here," Shinkle said.
"We have to accept it."
"That's crazy," said Darryl Williamson who lives across the street from the park shelter used by Triblett.
"We're not doing our job if that's the law," Williamson told the I-Team.
"It's legal, but it's laughable," said Ohio State Senator Cecil Thomas.
Thomas, a Democrat from Cincinnati, is the senate's Assistant Minority Leader.
Thomas told WCPO 9 that state laws need to be changed so that deputies are required to verify addresses and get state funding to do it.
"We've got a serious flaw in our process and the legislators need to address it," Thomas said.
The I-Team showed Thomas a picture of Shinkle standing under the outdoor shelter used by Triblett.
The playground was right behind him.
"I can assure you I'm going to get a copy of that and we're going to be discussing that on the state level immediately, I can guarantee you," Thomas said.
"People are going to have a heart attack when they see that."
Shinkle was not able to find Triblett that day.
So, the corporal taped a bright green card to one of the posts supporting the shelter. Shinkle told the I-Team Triblett had picked that location.
The I-Team could easily see the card from the 3700 block of Beekman Street, which runs parallel to the shelter.
The card notifies Triblett that he needs to return it to the Sheriff's Office within 72 hours to verify he still lives here.
Shinkle said Triblett chose the shelter pole as the place for the Sheriff's Office to contact him.
Two previous notices for Triblett were still taped to the pole.
Three days after Shinkle left the third notice for Triblett, a Hamilton County grand jury indicted him for failure to verify his address – a felony.
Court records reviewed by the I-Team show Triblett, Day and other registered sex offenders have repeatedly been charged with failing to verify their addresses.
During the last year alone, the Hamilton County Prosecuting Attorney's Office filed 130 criminal charges against registered sex offenders for failing to notify the Sheriff's Office that they had moved or for not verifying their current address, according to court records reviewed by the I-Team.
In most cases, judges sentenced them to community-based programs designed to support them.
Some offenders violated conditions of their Community Control and were sentenced to jail or prison.
Thomas expressed concern about the number of sex offenders who spend time in jail for not filing proper paperwork while jails and state prisons are overcrowded.
"This has to be addressed in a much more productive way," Thomas said.
Thomas said homeless sex offenders aren't accepted at some shelters, which he believes makes them less likely to be successful and puts the public at greater risk.
"I'm glad you're bringing this up, because this conversation needs to be had," Thomas told WCPO 9.
Shinkle, a father of four, said he believes a strong and mandatory address verification for sex offenders will help provide greater accountability for them.
"I think that's all we can do without having them all in jail, on house arrest or on GPS. You're never going to monitor them 24/7."