CINCINNATI — Cincinnati's Hearing Speech + Deaf Center in Corryville is ready to keep closing the gap for those who have had trouble communicating during the COVID-19 pandemic.
The team of hearing and speech professionals received a $2,000 grant from the Greater Cincinnati Foundation and the United Way earlier this month that will go toward production of window masks, cloth masks with a vinyl window that allow people to see your lips as you speak.
The Hearing Speech + Deaf Center offers services such as interpreting, American sign language interpreting, deaf advocacy, employment services, audiology and speech and occupational therapy. As the pandemic ramped up, staff at the center noticed a disparity in communication because of the use of masks to protect wearers from the coronavirus.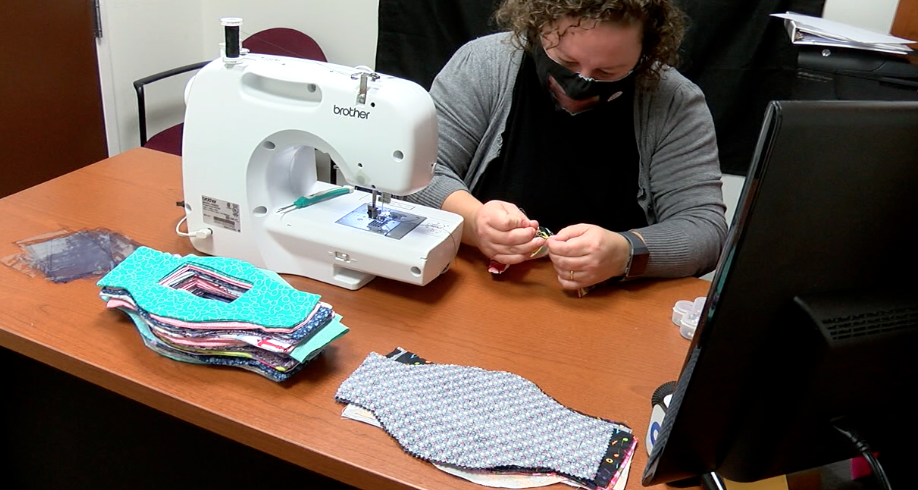 "We depend on sign language to communicate," said Elizabeth Whelpdale, a center employee who has hearing loss. "I also depend on lip reading to communicate with people."
She said she had a tough time navigating how to help her clients and stay protected from the coronavirus.
"I was so frustrated I felt like I could cry because I already have hearing loss, I already have barriers and communication issues," she said. "Our mission here is to focus on breaking down those barriers in communication, and these masks with full coverage were not helping at all.
Whelpdale and her co-workers quickly came up with a solution after they found a pattern online for a window mask.
"When a sign language person is communicating with a deaf person, they also need to see that person's expression and watch their lips move as well and watch for communication," said Hearing Speech + Deaf Center CEO J.B. Boothe.
The center initially began producing the masks this spring. Once word got out, though, the center started to receive requests for the masks from all over the country.
So far, the center has made and distributed more than 1,000 window masks. The $2,000 grant the team received will help staff purchase more materials to continue making the masks for anyone who wants one.
"I'm hoping that people will use the window masks not only to help deaf people but also people who have hearing loss, hard of hearing, that whole spectrum," said Whelpdale. "I know that there are some people who do not have hearing loss who depend on lip reading as well, so I'm hoping that people will continue to wear these masks with windows."
If you would like a window mask, contact the Hearing Speech + Deaf Center via its website here.