CINCINNATI – Kate MacDonald is passionate about wine.
The owner of Skeleton Root, an Over-the-Rhine boutique winery that opened in September, insists that more goes into making great wine than mashing grapes and designing a pretty bottle label. Seeing how wine is made, understanding soil conditions where grapes are grown and knowing local winemaking history help her make a good vintage, MacDonald said.
Skeleton Root and Revel OTR, another young Over-the-Rhine winery, are working to carve a space for wine in Cincinnati craft culture alongside beer. Both look to appeal to millennials who, according to wine industry publications, are more likely to live in urban areas and want to know the origin of their drinks.
That's partly why MacDonald and her fiance, Josh Jackson, opened Skeleton Root inside a repurposed warehouse at 38 W. McMicken Ave. Skeleton Root both makes and sells its wine there.
"We decided it made sense to do this here and in an urban setting -- to be within access of people and be part of their daily life," MacDonald said. "We are here to hopefully show folks something different in the (Ohio) valley because we believe in it."
In April, John and Amy Coleman and Anthony and Jodi Maieron opened Revel at 111 E. 12th St. for similar reasons.
"Once you put yourself in that more urban setting, people are walking home or going home from work; wine drinking becomes more of a daily routine, " said Alex Sena, general manager and vintner for Revel OTR. "I'm sure the craft brew scene has experienced that."
Neither Skeleton Root nor Revel grows its own grapes, unlike rural wineries, which traditionally are attached to vineyards. Instead, both businesses source a variety of grapes from local and national growers.
Sena, Jackson and MacDonald said the "urban winery" model allows them to make wine varietals that are not tied to a single type of grape the way most rural wineries are.
"We get to throw new curveballs in to see what people are receptive to, to expand their palate," said Jackson.
Changing trends
Those "new curveballs" also allow both wineries to connect with customers who want to know more about what they are drinking. According to the wine publication Back Label, urban wineries cater to millennials' desire for personal, and often local, relationships to what they drink.
"Millennials want to know exactly what is in the glass; the grape variety, where it is from, how it is made," said Vinexpo chief executive Guillaume Deglise in a March article for British publication Decanter. Vinexpo is one of the world's largest wine exhibitions.
For the owners of Revel and Skeleton Root, meeting those demands means, in part, making sure their wineries are welcoming to all visitors.
"We designed this space as an open kitchen," Jackson said of Skeleton Root's open layout. "You can see the fermenters and the wine come to life right before your eyes."
Revel's John Coleman echoed that approach.
"We want to be able to share our love of wine in Over-the-Rhine," he said. "We took a very simplistic, approachable way when designing Revel -- let's make it like you are at home."
A passion for product
Sena said his winemaking education began almost 15 years ago, when he decided to shift from horticultural work to winemaking. He ran vineyard operations in Indiana for three years before working at Vino Collett in Colerain Township. Maieron said he grew up watching his parents make wine at home after they immigrated to the United States from Italy.
Maieron also spent time watching Joe Henke make wine at his pioneering urban winery in Westwood. Since Henke Winery opened in 1996, Wine Enthusiast magazine has named it one of the 10 best urban wineries in the United States three times.
Seeing new urban wineries in the Queen City is exciting, Henke said.
"That brings more interest," he said. "The industry has really blossomed in the last 21 years. We've gotten away from being a sweet wine-only area. Ohio wine-makers can still make world-class wine. We have some great growers who exclusively grow for us, giving us quality products."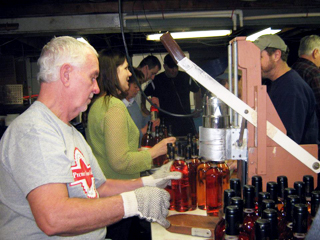 Skeleton Root's MacDonald said she became interested in winemaking more than a decade ago. She started working for Valley Vineyards in Morrow and later moved with Jackson to Napa Valley, where the couple made their own white wines.
The further away from home she went, the more she came to appreciate Ohio's rich winemaking history, she said.
"I just really became more exposed to American wine and the fact that its roots are in Cincinnati," MacDonald said. "It really started here, and before these hillsides were developed here, they were vineyards. That's why we eventually made the trek back."
Lay of the land
Part of Skeleton Root's mission is to revive Cincinnati's rich wine heritage, started by Nicholas Longworth in the 1800s. MacDonald and Jackson even use the same native Norton and Catawba grapes in their wines that Longworth once did.
"Our core focus has been on wine styles based on the conditions we have here," MacDonald said. "I'm very interested in Ohio. The more that we can get here, that's our passion."
Skeleton Root serves its own wines sourced from grapes grown at local vineyards, along with a select group of guest wines.
Sena said Revel is partnering with local vineyards as well and supplementing production with grapes from around the country as needed.
Revel is also serving wines made at local vineyards, Maieron said.
"We can only get about 44 barrels in our basement, which makes Revel more of a boutique winery, but it also allows us to be a conduit for more local wineries," he said.
"There is really good quality wine coming out of Ohio," Sena added. "Luckily, the guys I know in Cincinnati, like Skeleton Root for example, have a super strong commitment to quality. We worked our asses off to make it happen, just to keep it regional."