With the holidays only months away, Amazon announced that they are getting ready for their peak season by hiring 120,000 new workers for seasonal jobs. The positions range from customer service to sorting and distribution to working in an Amazon warehouse. There are both full-time and part-time positions available in 33 states, and Amazon's website has a list of all of the jobs currently available. Wondering whether Amazon is hiring in your neck of the woods? They have seasonal job openings in the following states: Alabama, Arizona, California, Colorado, Connecticut, Delaware, Florida, Georgia, Illinois, Indiana, Kansas, Kentucky, Maryland, Massachusetts, Michigan, Minnesota, Missouri, Nevada, New Hampshire, New Jersey, New York, North Carolina, Ohio, Oklahoma, Oregon, Pennsylvania, South Carolina, Tennessee, Texas, Utah, Virginia, Washington and Wisconsin.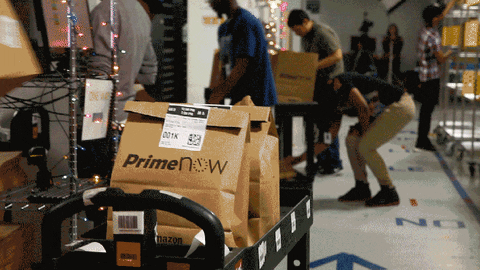 If you're hoping to make some extra cash by working for Amazon this holiday season, there are a few details you should know. Potential employees must be at least 18 years old for the majority of these seasonal positions. The pay rate typically ranges between $10 and $13 per hour, depending on where you live and the responsibilities of the specific job. Some employment opportunities also offer medical and other benefits. Need another reason to apply? Although these are temporary opportunities, seasonal employees may have an advantage when it comes to being hired for permanent positions after the holidays are over, according to a statement from Amazon executive Dave Clark. So, it could be a great way to get your foot in the door at the online retail giant.

Amazon is not the only company hiring additional workers for the winter months. UPS announced that they are adding 95,000 new jobs, while Target will add over 100,000 new team members across the country. Macy's and JCPenny are also getting in the holiday spirit by hiring 80,000 and 40,000 seasonal workers, respectively. If seasonal jobs are not available in your area, or if working from home is more your style, be sure to check out the job listings for Amazon's remote customer service associate positions.
This story originally appeared on Don't Waste Your Money. Checkout Don't Waste Your Money for other great tips and ideas to make the most out of life.
---