Have you ever spotted a figure in the dark you didn't recognize? Or heard a noise that made the hair on the back of your neck stand up?
Not everyone believes in ghosts. But for those that do, an encounter with something that goes bump in the night is no laughing matter.
That's why we asked the people of the Tri-State to submit their spookiest real-life "paranormal" experiences.
And holy smokes, did you all deliver.
You sent us more than 100 incredible photos, videos and voicemails. It was a real challenge to narrow down the best ones – but we got it done. Plus, WCPO editorial cartoonist Kevin Necessary created custom comics for his three favorite submissions.
So sit back, turn off the lights, check under the bed and enjoy this spooky journey to the unknown.
Stranger behind the camera
Submitted by Lori McGhee – Grove City, Ohio
"My 3-year-old son was trying to take a picture of me. He didn't realize the camera was backward. He took several photos within seconds of each other. I grabbed the camera back when he was done and started erasing the photos to make space. The first two images were blurry duds. But when I got to the third picture, there was a startling face behind his. I've never seen this person in my life and we were the only two home."
---
Fireside chats
Submitted by Mike Moroski – Downtown Cincinnati
"I ran a nonprofit coffee shop called Choices Cafe on the corner of 15th and Elm streets. It had a huge sub-basement with a lot of old remnants and bottles. It was totally haunted. Many high school students engaged in service learning activities there. One night, we were outside the shop around a fire and I took a picture of a young man. What came out shocked us."
---
Who is that in the pantry?
Submitted by Stephanie Ater – Fayette County, Ohio
"I was in my kitchen with one of my kids. While she was eating, I took a picture of her and posted it on Facebook. That's when people started asking me, "Who is the man in the background?" Her and I were the only two in the home. I looked at the picture again and you can see an older man looking around the corner of the pantry. Our house was built in 1877."
Do you see anything? Here's a closer look:
The Cinder Man
Submitted by Daniel Ennis – Mount Washington
Daniel Ennis sent us this story of a bone-chilling childhood experience in his Mount Washington home. Listen to his voicemail and check out Kevin Necessary's comic-style interpretation below:
---
There's something in the hallway
Submitted by Chris Stutz – Milford, Ohio
"I used to live in an apartment in Milford that was so haunted, I had to move out. Candles were tossed around. Half-body apparitions would float in the hallway. Different color orbs would float around my room. There were even scratches on my wife's throat. The list goes on. It was evil, for sure. I have plenty of pictures to back up my stories. The one picture below is of a half-body apparition from the waist up to the neck that would walk around in my hallway at night."
---
Caught by the motion detector
Submitted by Melissa Kottmyer – Florence, Kentucky
"Weird things were happening in my house: Unexplained noises, doors and cabinets opening. I set up a motion detection camera in my basement. I caught what looks like an old man walking in front of my computer. You can see through him. There is something behind the chair also. Not sure what it is."
---
Something wicked this way comes
Submitted by Greg Pollitt – Withamsville, Ohio
"I am the co-founder of a paranormal investigation team called Paranormal Nights. On one of our investigations in late 2012, we visited a client's home to investigate claims of the paranormal. The client said they witnessed shadow people, objects in the home moving and doors being slammed and locked. After we completed our interviews and began investigating, the home came alive with objects moving. We saw shadows crawling across the floor and ceiling... We had things happen and evidence to believe this was something of malice and possibly a demonic haunt. This is an image of something manifesting in front of our client. We drew an outline around the area. We also warmed the image for clarity."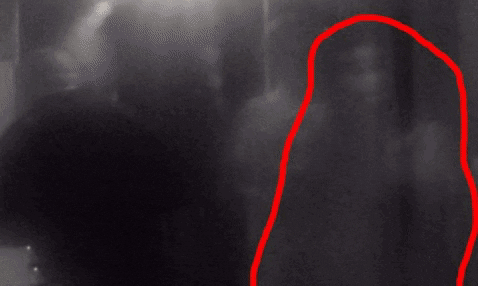 ---
A patriotic spirit
Submitted by Laura Hagedorn – Fort Thomas, Kentucky
"This picture was taken during a Fourth of July parade. We were standing under a tent so there wasn't anything on my camera."
'They've come to take me away'
Submitted by Richard Cathcart – Milford, Ohio
"I was taking care of an elderly patient as part of my job when one day she said to me: 'Get these two men out of my room.' She also said: 'They've come to take me away.' She was acting confused, which wasn't normal for her. Other than that, she seemed OK. I went home shortly after. I learned the next day that she died about 20 minutes after I left."
Check out Kevin Necessary's comic-style interpretation below:
---
A friendly orb
Submitted by Holly Carmin – Park Hills, Kentucky
"This photo was taken months after my husband passed away. We had taken a bunch of pictures from the same spot, doing different poses. But this is the only one that had an orb. Friends of mine have zoomed in enough to where you can see a face."
---
Stranger peeking in
Submitted by Kara Siler – Amelia, Ohio
"Growing up, my dad's house held many spooky, unexplainable nights. We would hear loud, heavy footsteps running up the stairs when we were home alone. It also sounded like a person – or thing – was dragging a rake up the walls as it sprinted up the stairs. But there was one room in the house where – sometimes in photographs – it looked like a man was watching us from the windows. The photos below were taken in the same room and six months apart. Each shows a different window in the room."
---
Don't turn around
Submitted by Ed Singler – Bridgetown, Ohio
"My paranormal experience happened while I was standing at the top of my steps taking a photo of a framed picture I was selling online. You can see my legs and the steps in the reflection of the frame. And if you look closely, you can see the outline of a person's head as if they are standing in the stairway. I was the only person home when I took this photo. I remember feeling a cold chill on the back of my neck. I'm glad I didn't turn around."
An out-of-body experience
Submitted by Jennifer Beach – Fort Wright, Kentucky
"I had an out-of-body experience when I was in middle school. I was lying on my bed one afternoon, thinking about napping but not really sleeping. I rolled over onto my belly, and suddenly I was at the ceiling, looking down at myself lying on the bed. This was not a dream. I was wide awake. There was a sort of vague cord running from the me on the ceiling to the me on the bed. I felt a floating sensation. It scared me, and I rolled back over not knowing what would happen. When I did, I was back on the bed. I felt extremely heavy, and vaguely like something was missing. I didn't tell anyone about it for a very long time, and I'm still not sure what I think about it."
Check out Kevin Necessary's comic-style interpretation below:
---
Home alone?
Submitted by Jennifer Owens – Goshen, Ohio
"This picture was taken this past March in my house. I was the only person home. The shadow in the hallway was gone shortly after I snapped the photo."
---
The man in the wall
Submitted by Emily Chaney – Reading, Ohio
"I've always had a feeling that my house was haunted. Little things would happen here and there. I felt like someone was watching me. I would get random cold chills. The TV would randomly turn on or off. I would hear people talking. My family thought I was absolutely crazy. Then, a couple of years ago, my dog Roscoe randomly started growling. I had this weird feeling and I got cold chills. I decided to take a picture on my phone – and there it was: A man on my wall that looks like he has a receding hair line and a suit on."
---
That's not my child
Submitted by Yexam Nnael Elleinad – Cincinnati
"This photo of my daughter and my stepfather was taken at Spring Grove Cemetery. My daughter is holding a fish and was the only child there – but you can see the figure of what looks like another child on the left side of the image. My stepfather passed away that night. This is one of the last photos of him."
Share your own experience
The spooky stories don't end here. We want to hear from you. Tell us the scariest paranormal experience you've ever had.
You can submit your story in two ways.
METHOD 1: Leave us a voicemail. (Keep your story to 2 minutes or less).
Call 513-852-4972. Wait for it to ring a few times and after the beep, please tell us:
Your name.
Your neighborhood.
Your spooky story. (Please keep it to 2 minutes or less)
And your telephone number (we won't publish your number; we'll use it only to contact you if Kevin draws your story).
Example: My name is Maxim Alter. I live in Walnut Hills. I was sleeping one night when I felt my dog jump on my bed and start kissing my face. He does this a lot when he wants to wake me up. After about 30 seconds of this, I realized that my dog was at my mom's house and opened my eyes. There was nothing there. My number is 513-000-0000.
METHOD 2: Tell us your story via text.
Fill out each box of the form below and hit submit when you're finished.