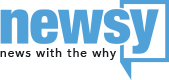 wcpo.com
National News Partner
This Whole Dress Debate Has Questioned Our Faith In Humanity
Well, the Internet pretty much erupted late Thursday as the social media world got into a heated debated over the color of a white and gold dress —
Blue and black.
White and gold.
Blue and...
If you managed to avoid Twitter Thursday night, we envy you. Because, otherwise, you might've been sucked into the controversy The Verge labeled the "dress color war." Yep, there it was, trending right alongside Lebron James and Net Neutrality — you know, way less important topics.
So, here's what all the hubbub was about. A stumped Tumblr user posted this photo asking for a little guidance: is this dress white and gold, or is it blue and black or.. or... OR... is there seriously a reason we're even debating this?
"I see this thing as blue and black. That is it."
"I think the black and blue people are insane and they are colorblind."
"This dress is blue and black."
"I see white and then, like, a mustard gold color."
"I'm so confused. I've never been so stressed out in my entire life."
Yeah, neither have we but for an entirely different reason: faith in humanity.
Gizmodo and Gawker were so furious about all the confusion, they even dropped expletives in their headlines. Cause that's warranted.
This thing was such a hot topic that BuzzFeed posted not one, not two, not three... but, by our count, SEVEN different articles on the color battle.
Slate even started up a live blog to try and solve the puzzle.
And the outlet wasn't alone. We found several people using photo-editing programs to explain their reasoning.
"If I go over here and drag the exposure down just a little bit, you can see the dress clearly becomes blue and black." (Video via YouTube / Kenny Carlile)
Wired got ahold of a neuroscientist — seriously, a neuroscientist — to help break this down. He says people see the dress differently because of the way sunlight affects our color perception.
"What's happening here is your visual system is looking at this thing, and you're trying to discount the chromatic bias of the daylight axis. So people either discount the blue side, in which case they end up seeing white and gold, or discount the gold side, in which case they end up with blue and black."
You see, Jay? Stop discounting the chromatic bias of the daylight axis. GOD.
Can we please just find something more pressing to talk about?
"Really a bizarre scene unfolding here. You are seeing live pictures of what appear to be lamas or alpacas on the loose." (Video via CNN)
That's perfect.
This video includes images from Getty Images and music from Kevin MacLeod / CC BY 3.0.