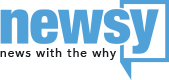 wcpo.com
National News Partner
At Least 50 Dead After Passenger Plane Crashes In Nepal
At least 50 people are dead after a passenger plane crashed Monday while landing at the Kathmandu airport in Nepal.
Officials and witnesses say the plane caught fire after veering off the runway. There were 71 people on board the plane, which was operated by Bangladeshi airline US-Bangla.
It's unclear exactly what caused the crash. According to several reports, the airline blamed air traffic control. But authorities claim the plane made an "unusual" landing.
Additional reporting from Newsy affiliate CNN.
---
Trending stories at Newsy.com