The technology that changed 2013 and what to expect this year
2013 was a busy year filled with breakthroughs in technology: Smartphones got smarter, tablets got faster, thinner and lighter and social media got more social.
But what stood out? And what should we expect in the year to come?
Here are the top nine tech advances of 2013:
 
In March, Samsung kicked off its war against Apple's iPhone with the Galaxy S4. The phone delivered top-notch results in the most critical areas of tests conducted by Consumer Reports Magazine, including its 13-megapixel camera. With a 5-inch, high-definition 1080p touch-screen display, and oodles of gesture- and sensor-based tools for accessing and sharing content, the Galaxy S4 was truly a smartphone game-changer for 2013.
The popular social media machine that is Instagram surprised its users this year with the capability to go beyond your standard filtered food and pet photos. Instagram introduced the ability to record and post filtered video through its iPhone and Android apps. Unlike Vine, Instagram video clips can be up to 15 seconds long – and users showed their creative side when the update released in June.
No 2013 technology list would be complete without the Google Glass. Both controversial and futuristic, the Internet-powered glasses were shrouded in mystery before 2013. Google Glass can be controlled with voice commands or a trackpad on the right arm of the glass. The gadget can be used to take photos and video, get social media notifications, check emails, get directions, search for information with Google and much more. Google Glass is not available to the masses just yet.
In September, iPhones and iPads everywhere started looking more colorful, brighter and modern. iOS 7 released with some backlash – not everyone likes change. But the software upgrade – which works for the iPad 2 and up and the iPhone 4 and up – came with several applauded additions.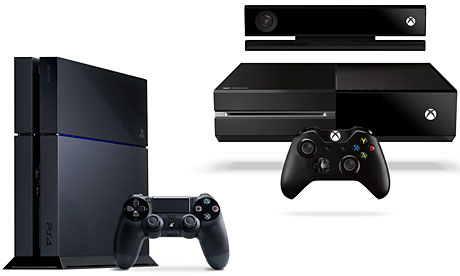 Those included a new lock screen with security upgrades, new camera options, a redesign in the way you receive notifications, smarter mailboxes, easier multi-tasking, iTunes Radio and more.
The Xbox One and the PlayStation 4
Whether you're a Microsoft or Sony fan, gamers can agree 2013 was a great year for video games. The Xbox One and PlayStation 4 released a week apart in November, competing for the hearts and holiday wish lists of game enthusiasts everywhere. Beyond hardware improvements and new games, Sony and Xbox introduced new controllers and faster consoles. Sony also released its $60 Playstation Camera, which adds augmented reality features to some games. But it was nowhere near as impressive as the Xbox One's Kinect camera, which turns your TV into an all-in-one voice controlled entertainment system.  
Released in 2013, the Leap Motion Controller is a small USB accessory for PCs and Macs that changes the way you use a computer. At only $80, the device plugs into your computer and allows you to perform tasks – like playing games and reading the paper – by waving your hands in the air. The Leap Motion Controller can even detect how many fingers you're sticking out and the angle of your palms. The cool tech will soon be built into laptops like HP's Envy17 Leap Motion SE.
In 2013, the world was introduced to smart watches, which let you use your mobile phone without taking it out of your pocket. The watch's screen acts as an extension of your smartphone's display. You can get your notifications, text messages, emails, view your photos and more from your wrist. Thanks to a crowd-funded Kickstarter campaign, The Pebble Smart Watch was born, which later led to bigger companies like Sony and Samsung getting into the smart watch market. It's rumored Apple might even get into the game with an "iWatch" very soon.
The Google Chromecast took the No. 1 spot this year from Time Magazine in its list of the top gadgets of 2013. The Chromecast is a $35 digital streaming adapter in the form of a 2.83-inch dongle. The device plays audio and video content on a high-definition television by streaming it via Wi-Fi from the Internet. Basically, with Chromecast, you can watch a variety of online entertainment on your HDTV – like music, movies and TV shows from Netflix, YouTube, HBO GO, Hulu Plus, Google Play Movies and more. You can also use Chromecast to send videos and more from your smartphone, tablet or laptop to your TV with the press of a button.
Normally, Apple's new iPhones with an "S" at the end of their model numbers are less exciting than their new number counterparts. But in 2013, the iPhone 5S brought some exciting new features to the smartphone market. The new Touch ID sensor lets unlock your iPhone with a quick hold from your finger or thumb. And the iPhone 5S camera has a unique dual-LED flash that provides custom lighting depending on where you are and how much light you have available to you when you're snapping a photo. Apple's
phones are also faster than ever.
Here's what to expect in 2014:
 
Smart TVs will get an upgrade:
Samsung, Panasonic, LG, Sony and other industry giants are expected to release new Smart TVs next year that will better satisfy consumer cravings for web browsing and streaming on their televisions. The quality of these TVs will continue to jump and streaming options like Netflix, Hulu, Amazon Instant will keep increasing. The development many are waiting for in 2014 is the release of Apple's much anticipated iTV. Rumor has it Apple may be in the process of making a deal with Time Warner to provide programming on Apple devices. It's expected in the summer of 2014.
Smart watches will get smarter:
Right now, smart watch options are limited. But both Google and Apple are expected to release watches in 2014. Rumor has it the Apple iWatch and the Google Watch will go head-to-head and will each integrate with other devices under their brands -- like the iPhone or Google Now.
Google Glass will spread:
An estimated 60,000 Google Glass devices were sold in 2013, but several million are expected to sell in 2014. With much of the testing underway, Google Glass may be a much more refined piece of technology when it releases to the general public sometime next year. It is expected to release with the Glass App Store, similar to Apple's iTunes store.
The Xbox One and PlayStation 4 will change the gaming industry:
Both next-gen consoles will have a massive library of games in 2014 that will blur the lines between reality and virtual reality. Sony and Microsoft rushed both consoles for release before the 2013 holiday, but 2014 will be a time for refinement and user interface updates. The Xbox's Kinect camera is expected to get smarter and faster and the PlayStation is expected to have some of the best games in the market.